Why You Should Care About Net Price
If there's two things I know from working in admissions for nearly 10 years it is 1) I can name obscure high school mascots from across the country way more than a normal man my age should and 2) when I say the words "net price," students start hearing the teacher from Charlie Brown.
But here's why you should start caring about getting versed in the ways of net price, because starting next Fall, every college that accepts Federal financial aid funds will be required to feature a net price calculator on their websites.  Get excited!
By way of the Higher Education Opportunity Act, signed into law August 14, 2008, colleges will now be required to provide a way for students and families to estimate a "bottom line" price.  The purpose of the requirement is:
"to help current and prospective students, families, and other consumers estimate the individual net price of an institution of higher education for a student. The calculator shall be developed in a manner that enables current and prospective students, families, and consumers to determine an estimate of a current or prospective student's individual net price at a particular institution." P.L. 110-315, sec. 132 (h) (1).
So what is net price?  Here's a simple diagram: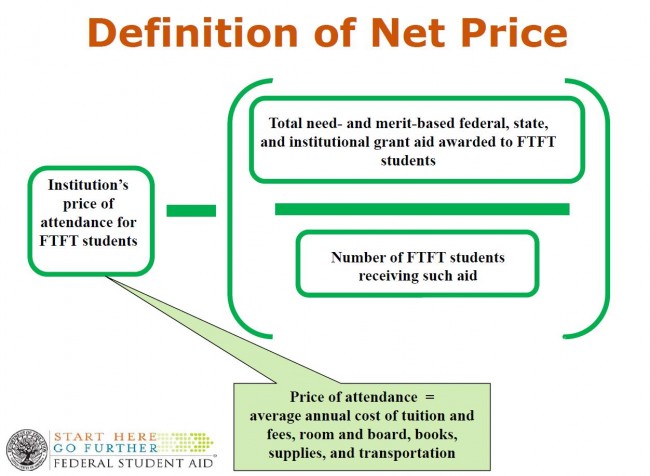 NOTE: FTFT stands for "Full-Time, First-Time" or Freshman to non-eggheady non-higher ed people.
Basically, the net price is the cost of attendance after the average financial aid is factored in.  Of course it is just an estimate using averages and no one is average in the financial aid process.  It is entirely based on your unique circumstances.  However, more information is better when it comes to the college search process.
Don't want to wait until next year?  Great, you can access the net price for nearly any college you are considering (including Vanderbilt) at College Navigator, a website of the National Center for Education Statistics.  Simply search for the school you want and click on "Net Price."  Really impatient and don't want to wait to find out what Vanderbilt's net price is?  Fine, although I think you really need to work on getting more patient (just as an aside) I'll include it below.  Have a great weekend!
Average Vanderbilt University Net Price
| | | |
| --- | --- | --- |
| INCOME | | AVERAGE NET PRICE |
| $0 – $30,000 |   | $3,099 |
| $30,001 – $48,000 |   | $6,024 |
| $48,001 – $75,000  |   | $10,350 |
| $75,001 – $110,000 |   | $16,297 |
| $110,001 and more |   | $30,592 |
Full-time beginning undergraduate students who received Title IV aid by income.