10th Day Data
Before school begins each fall colleges and universities think we know what the incoming class is going to look like (statistically speaking), but we can't be absolutely confident.  Therefore we wait 10 days for everyone to get to campus, begin classes, and get in a groove before we take count.  This college/university census is known as the 10th day of enrollment data.  This information is the most accurate picture of each institution's population.  In that spirit I provide you with Vanderbilt University's 10th day of enrollment data.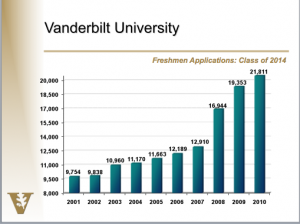 Applications for Fall 2010 freshmen admission to Vanderbilt University increased to 21,811; up from 19,353 the previous year.  Correspondingly, the admit rate dropped this year to 17.9 percent.  Of those admitted, 40.9 percent chose to enroll (known as the university's yield).
Here's a few more interesting statistics about the Class of 2014:
100 percent participated in extra-curricular and/or leadership activities in their high school or community
Only 36.1 percent of applicants had a reported rank in class; of those admitted with a reported rank in class, the average rank in class was 6.1 percent and 84.6 percent of students with a reported rank were in the top ten percent of their graduating class
The middle range of SAT scores for the enrolled class is 1360 to 1530 (critical reading + mathematics); this represents the 94th to 99th percentile of all SAT test takers
30 percent of our incoming class self-reported as a race/ethnicity other than Caucasian; 9.o percent Hispanic; 0.6 percent American Indiana or Alaskan Native; 6.3 percent Asian or Hawaiian/Pacific Islander; 8.9 percent Black/African American; 5.2 percent two or more races
The Class of 2014 is 48.9 percent women and 51.1 percent men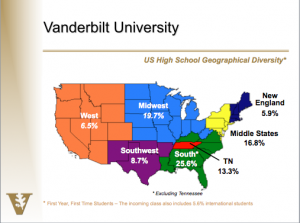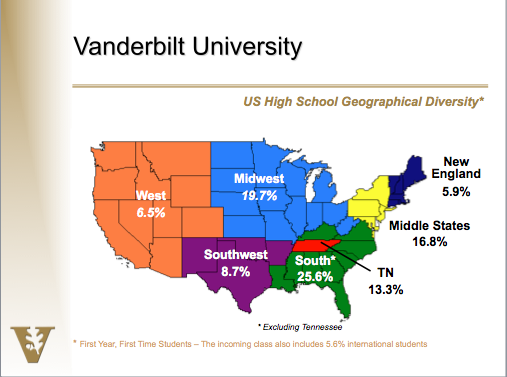 Our class comes from all around the nation and the world.  Moreover, our freshmen class represents socioeconomic diversity; 64.3 percent of the class receives financial aid (including need-based aid, merit aid, and athletic scholarships).  This is an increase from 61 percent the previous year.
Below is the data by individual school.  As you can see from the raw numbers, no one college is "easier" to receive acceptance to than another.  Throughout the application process we truly evaluate school fit.
College of Arts and Science
16,407 applications
2,756 admits
1,014 enrolled
School of Engineering
3,717 applications
817 admits
326 enrolled
Peabody College of Education and Human Development
1,307 applications
233 admits
200 enrolled
Blair School of Music
380 applications
108 admits
60 enrolled
One of the things I truly love about working in Vanderbilt's admissions office is the transparency.  We want our prospective students and their families to have all of this information available to you as you make decisions throughout this college search process.  Questions?  Ask.  I'll try and find you answers.