Mailing Week 2010 Begins
A couple of admissions cycles ago, I mentioned the Vandy Admissions legend that originated with a former Dean of Admissions regarding the Decision Tree.  The story goes that when the flowering apricot tree that adorns the entrance to 2305 West End Avenue blooms, then it is time to mail.  The buds are just starting to pop my friends.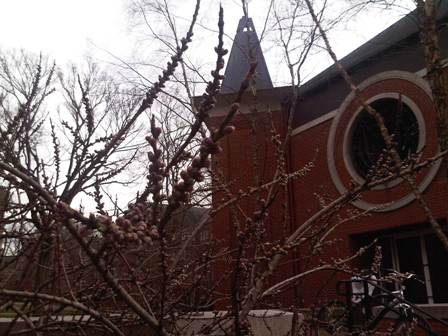 Today we began decision checking on all completed applications for the Vanderbilt class of 2014.  This is the first of a multi-step process of getting our decisions out the door, which we intend to do by this Friday, March 26th.  Decision checking is when we physically pull all files and make sure that the decision in our system, is the correct and intended decision.  Along the way, we double check to make sure that you are Mr. or Ms. Jones and not Rabbi Jones, although who knows?!  You may very well be a Rabbi.  But if you're not, your letter shouldn't indicate as such.  We check your address and all other pertinent information as well.
The second step is letter checking where we make sure that your letter is in your envelope, and that you do not get someone else's decision.  I snapped a couple of photos of the activity across our office, including an advanced peek at the cover of our "Open 'Dores" packet that all admitted students will receive (including ED students as you can see in the signs below the bins in one of the pictures).  I'll post more as the week progresses along.