How Admissions Committee at Vanderbilt Works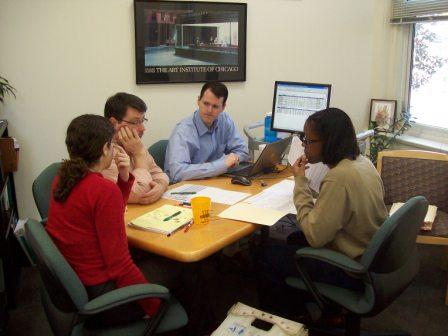 There are things in this world that are perceived to be more fascinating than they really are: haggis, turkey bowling, Dancing with the Stars, that game where you spin around on a bat 10 times and wobble toward the finish line – oh, and admissions committees.  For the past two weeks I, along with my fellow Associate Director and Director of Admissions at Vanderbilt, have reviewed the decisions of hundreds of individual students all across the country.  Think of a meeting that lasts 80+ hours long.  Yes, it is that fascinating.
Here's how it works:
Each officer brings in a bundle of applications, which at this point have been first read and second read.  Nearly all of them have already been "decisioned" (as we've talked before on this blog) and the officer is proposing a decision change.
In the picture above you see a laptop connected to a monitor.  It displays all 19,300 applications we have received this year, broken out by high school (all 928 pages of them).  It is useful as we progress through each region to view a student presented in committee in the broader context of his or her high school.  The computer is also clutch for hunting down mundane yet (in the moment) pressing matters such as checking the lyrics to Billy Joel's Allentown in between Eastern PA apps.   Or "How do you pronounce Nacogdoches (TX) and how is it different than Natchitoches (LA)?"   By the way, it's Knack-a-Doe-Shuss and Knack-a-Tesh respectively.  Ahh Google.
When there is an individual applicant that needs discussing, the officer presenting in committee will place a summary sheet of that applicant's grades, test scores (and a ton more)  in the middle of the committee table and begins describing the applicant.  The officer keeps the rest of the file (as you see in the picture) drawing out snippets of the essay, the eca's, the recs, etc.
Most of our conversations center along the faultlines between an admit and a waitlist, although we sometimes discuss when it would be best to waitlist a student or simply let them go.  We do not want to be placing students on a waitlist who would never stand a chance of coming off of it.  After the conversation/debate ensues, a decision is rendered.
Today is the final day of committee and decision checking started yesterday.  Decision checking is where we check each file to make sure the decision is recorded in our system correctly.  Letter checking then takes place to make sure that Tim from Toledo doesn't get Tina from Tacoma's decision letter.  If all goes like we think it will, letters will be in the mail a week from today.  Stay tuned.