Class of 2025 – Early Decision Update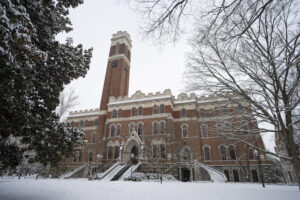 With the release of decisions for Early Decision II applicants earlier this week, the Office of Undergraduate Admissions has finished our Early Decision phase of admissions (Early Decision I plus Early Decision II). 18.1 percent of the 5,049 applications we received through Early Decision this year were admitted.
At Vanderbilt, we're committed to building a diverse class with students who represent a wide variety of backgrounds, talents, and academic interests. The first students in the Class of 2025 will bring an outstanding set of accomplishments and a wonderful and important array of backgrounds to Vanderbilt, and we're looking forward to welcoming them to our community this fall.
We build our class every year through a holistic admissions review, in which we consider an applicant's academic achievement (including test scores if submitted), extracurricular involvement, personal essays, and letters of recommendation, all with an eye to the context of the individual student. To learn more about our approach to admissions during the pandemic, you can read blog posts Caring in a Crisis, Strange Days, Test-Optional Policy for fall 2021 Applicants.
Of course, Early Decision is just the beginning of building the Vanderbilt Class of 2025. Our admissions officers are now hard at work reading and evaluating Regular Decision applications. When that process is complete, and the Class of 2025 has more fully taken shape, we look forward to sharing more about the remarkable students who will enter Vanderbilt this fall.
We're grateful to each student who applied through Early Decision, and we welcome the new members of the Class of 2025. Admit letters to newly admitted students will go into the mail next week. This is a slight delay, due to the winter weather that has affected Nashville and much of the rest of the country this week. In the meantime, newly admitted students can get to know other 'Dores through the Official Class of 2025 Facebook group. We also encourage new students to connect with VU through Twitter, Instagram, and other social media. Go 'Dores!