Scholarship – The Vanderbilt Community Creed
Editor's Note:  The Vanderbilt Community Creed is a statement of shared community values created by VU students. The Creed reflects the principles our community holds dear and serves as inspiration for the intellectual and personal growth Vanderbilt students strive toward. In this series of blog posts, we will explore the Community Creed–not just its lofty ambitions, but also what it really means to the lives of Vanderbilt students.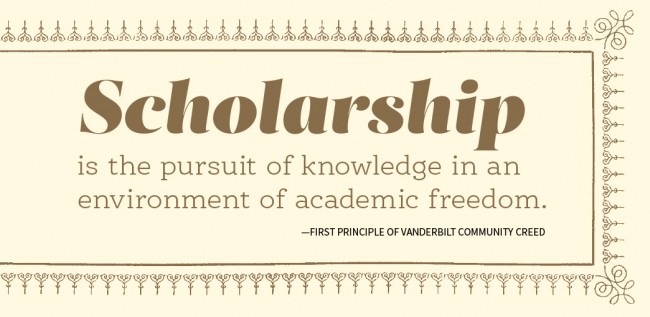 "SCHOLARSHIP is the pursuit of knowledge in an environment of academic freedom. Members of our community engage in a partnership of learning in which the exploration of ideas is encouraged and protected."
The first tenant of the Vanderbilt Community Creed is one that is at the heart of the University's mission:  scholarship. Vanderbilt's four undergraduate colleges provide students with a wealth of opportunities, and students are encouraged to take advantage of the possibilities for interdisciplinary study. For a flavor of the wide-range of academic offerings available, check out the current course catalog where you'll find classes like "Food Politics in America" and "Biomedical Engineering Ethics."
Commodores are also deeply engaged in opportunities for research, conducting research across all academic disciplines regardless of their major field of study. With over $656.7 million in university-wide sponsored research and project awards, VU students enjoy the opportunities afforded by a top-tier research university. Programs like the Vanderbilt Undergraduate Summer Research Program (VUSRP), which provides a $5,000 stipend for collaborative student-faculty research, make this kind of scholarship possible.
The pursuit of knowledge doesn't happen just in classrooms or laboratories at Vanderbilt. Here, learning happens all the time. It can happen over dinner with your faculty head of house, in a late-night conversation in your residence hall, or while you're exploring one of Nashville's neighborhoods.
VU Students on Scholarship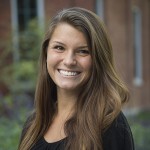 "Scholarship at Vanderbilt means the opportunity to live and learn in an environment that encourages you to discover all of your interests, aided by the awesome individuals that bring real-life experience to the classroom – the professors. I am a Communication Studies major, but some of the most fascinating courses I've taken are in other fields:  Native American religious traditions, literature from children of survivors of the Holocaust, nutrition, astronomy, marketing, social movements, the list goes on and on!" – Kara Parker, '17. Hendersonville, TN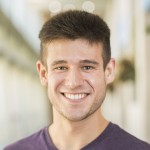 "To me, Scholarship means the freedom to mix different disciplines together to create a novel learning experience. My computer science class helped me conquer cryptography, and I adapted the lessons I learned in acting class to my creative writing assignments. I've always found many subjects fascinating, and as an English major with minors in Math and Psychology, I've never had to choose just one." Jeremy Price, '16. Naples, FL
Here is the story of Ariel Helms, a current senior whose scholarship in molecular and cellular biology at Vanderbilt has led her to discoveries in diabetes research and her own family history.
Learn more about Scholarship at Vanderbilt:
Undergraduate Colleges:
Undergraduate Research at Vanderbilt
Undergraduate Academics at Vanderbilt (video)
Student Hangout on Academics (video)
Immersion Vanderbilt (video)