Introducing New Blogger David Lazo
Hey there! My name is David Lazo, senior admissions counselor, and the newest member of the Vanderbilt Admissions blogging team. I am very excited to join the blog and share my Vanderbilt insights with you.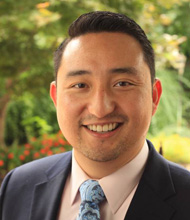 I am originally from Concord, CA, a suburb of San Francisco, and I completed my undergraduate studies in political science at the University of California, Berkeley. As an undergraduate, I was involved with the Rally Committee and served as a peer adviser in their College of Letters and Science. I also had the life-changing opportunity to study abroad in Denmark and learned to speak Danish to a high level. During my time at Berkeley, I was able to engage my love of foreign languages and strengthen my skills in Japanese, German, and Portuguese. After graduation I decided to try something different: I was an au pair to three amazing, non-English speaking, Swiss-German children in Switzerland.
In retrospect I shouldn't be surprised that I found my way into education, even though as an undergraduate I thought I would be working within the US government.  After all, when I was five years old, my dream career was to become a teacher. My career in higher education began in Stanford University's Financial Aid Office and soon moved to its Office of Undergraduate Admission. At Stanford, I oversaw a substantial portion of international recruitment, which allowed me to meet with international counselors and university officials to communicate the intricacies of highly-selective admissions. My time at UC Berkeley and Stanford helps me talk to families in my territories since my personal and professional experience straddles both a large, public and a medium-sized, private institution. One of the reasons why I love my job is that I am fascinated at how the college search process unfolds. Helping young adults navigate the array of college choices is not easy, especially when there is so much to learn in such a short period of time, but it is certainly exciting! I wake up every day knowing that my guidance and advice contributes to creating a successful college search.
In the fast-paced world of admissions, I am excited at the opportunity to reflect upon aspects of the college search, Vanderbilt's intellectual and student community, and the great city of Nashville with you. I look forward to sharing my thoughts on these important topics with you here at the Admissions Blog. Whether I'm on the road in Northern California, visiting your school in East/Southeast Asia, or at home here at Vanderbilt, don't be afraid to introduce yourself to me (Goddag in Danish, but English is OK, too!).  I believe that choosing a university is about finding a home that will invite new life opportunities, and I join colleagues that are excited to help see how Vanderbilt can be one of many possibilities to kick start the next stage of your life.