Dr. Douglas Christiansen on Admissions, Why He Loves Vanderbilt and More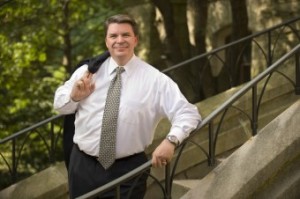 In early December, we brought to your attention an article on the website College Admission in which Vanderbilt's Vice Provost for Enrollment and Dean of Admissions, Dr. Douglas Christiansen, was quoted at length on the role of community service in the admissions process. And now, just under a month removed, the article's authors have published a full interview with the Dean as part of the site's "Five Questions" series, which also includes contributions from representatives at Tufts, Purdue and the University of Chicago, among others.
Want to know what kind of student thrives at Vanderbilt? (Spoiler alert: Advocating for big ideas is just the beginning.) Or perhaps why we offer two rounds of Early Decision? Answers to these questions and more can be found on College Admission, which is a companion to the book College Admission: From Application to Acceptance, Step by Step, authored by Christine VanDeVelde and Robin Mamlet.
After reading the interview, learn about the Vanderbilt Difference, our Selection Process, and more on our site.