Updates for ED II, RD, and Transfer Students
I hope everyone had an amazing holiday season with friends and family!  Here at Vanderbilt, OUA is back in full swing and we've got answers to your questions.  With ED I and the New Year behind us (how did that happen?!), I know most of our readers are focusing on the next admission rounds.  Here are the need-to-knows if you are an applicant for Early Decision II, Regular Decision, or Transfer admission.
Dates & Deadlines
January 3, 2011: ED II & RD application deadline; scholarship deadline for all students

January 8, 2011: ED II deadline to request an alumni interview

January 15, 2011: RD deadline to request an alumni interview

February 5, 2011: all students must complete CSS Profile and FAFSA for need-based financial aid consideration

February 15, 2011: ED II admission decisions mailed

March 1, 2011: Transfer application deadline

April 1, 2011: RD admission decisions mailed

May 1, 2011: National notification day (RD students must report their intention to enroll)

Summer 2011: Transfer admission decisions mailed on a rolling basis

August 24, 2011: First day of classes
Missed Deadlines
We are currently still accepting new applications and additional application materials.  There will be a point when we can no longer accept these items and still give the candidate a full review.  However, if you send application materials soon we will use them in your file review.
If you miss the request deadline for an alumni interview the interviewer may not be able to meet with additional students.  Furthermore, these deadlines ensure that your alumni interview report will make it into your file in time for your assigned admissions counselor to read it.  We cannot guarantee it will be available for your counselor if you miss the deadline.  Please remember that interviews are optional and only about a quarter of our applicants complete an interview.
With thousands of need-based financial aid applications to assess, the Office of Student Financial Aid and Undergraduate Scholarships needs your due diligence.  Please complete the CSS Profile and FAFSA as soon as possible and by the February 5th deadline.  If you miss the deadline you may still submit the forms, however we cannot guarantee you will receive a financial aid package immediately with your admission decision.
Scholarships
The deadline for the three Signature Scholarships at Vanderbilt is behind us already.  Students may not apply for the Ingram Scholarship past its December 1st deadline.  However, students interested in the Cornelius Vanderbilt and/or Chancellor's Scholarship may submit their materials ASAP and still receive consideration.  In about a month we will no longer be able to receive scholarship materials and still grant full consideration.
Ingram Scholarship recipients will learn of their award around the end of February.  CV and Chancellor recipients receive award notification letters in early to middle March (in advance of formal admission letters).
Missing Application Materials
If you received an incomplete email in the past few weeks, do not stress.  We know that things go missing from time to time.  Here's how to proceed:
1)          Be aware that items listed in the incomplete email "have not yet been processed".  That does not mean they have not yet arrived in our office.  If you sent materials within the past 10 days, please wait an additional week before checking in with our office.
2)          If the material(s) missing came from your high school counseling office, check with your counselor to ascertain when the pieces shipped out.  High schools are also overloaded and may send materials several days later than you think.
3)          If you and/or your college counselor submitted materials over 10 days ago and you still received an incomplete notice, please contact Nikkie Marlow.
4)          Allow Nikkie at least 3 business days to respond.
Nikkie Marlow
Vanderbilt University Admissions Processing Center
nikkie.a.marlow@vanderbilt.edu
615.322.3820
Decision Plan Changes
If you wish to switch from RD to ED II or vice versa, here are the steps:
1)          Contact your Vanderbilt University admissions counselor via email
2)          In your email include your name, address, and specific request
We need this request in writing so we cannot receive a request via phone.  Please remember that if you are switching to Early Decision II you will also need to complete the ED Agreement form available from the Common Application.  Your application will be incomplete until we process this form.
Transfer Students
We haven't forgotten about you!  Transfer students have a unique set of questions.  I will write a blog in the coming week or two that answers most of the questions you may have.  Here are a few notes to hold you over:
The deadline is March 1, 2011; we will not begin reviewing files until after that date and the first decisions will not go out until the end of May or beginning of June
You are eligible for need-based financial aid, so apply!  However, there are no merit scholarships available for transfer students.
Similar to freshman applicants, you have an assigned admissions counselor.  This assignment is geographic based on the high school you attended not the college you currently attend.
We will require an official every transcript from every institution you attended (high school and college).  Start working on getting those together.
Finally, we ask that you write your personal essay on why you would like to transfer and why you feel Vanderbilt would be an appropriate institution for you at this point in your life.  This essay can have a significant impact on the admission decision so start working on that as well.
Wow.  That was a lot of information!
I am currently wading through a HUGE stack of files.  All of the admissions counselors in the office take about 2 or 3 reading days a week to work specifically on applications.   Give your counselor time to respond to emails and phone calls.
Questions?  You know where to post.
PS: Thank you for all of the amazing conversations and questions on the blog these past few months!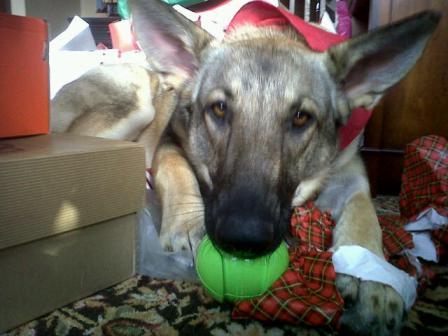 That puppy I referenced in my last post… well, she got bigger!