Committee 2011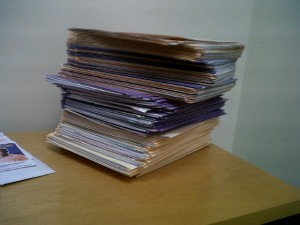 I know that once you click "Submit" on the Common App it feels anti-climatic.  This year I'm walking applicants through the process at Vanderbilt in real time.  Hopefully this transparency helps you feel less stressed.  In a previous post I walked you through how I read an actual file.  Here I answer questions about the committee process.  Hope this helps as our ED I students anxiously await decisions.
Which applications go to committee?
My associate director likes to describe the files that end up in committee as the "muddy middle" – those files which have strong support for admission, but it's not a clear decision.  From my territory this year I had 51 ED I applications and 13 files will receive consideration in committee.
What happens to the files that don't go to committee?
Files not discussed in the committee format already have initial decisions.  (I say "initial" because no decision is final until it's loaded onto the mail truck.)  After receiving at least two reads some files are clear admits in our process and do not need discussion.  Some files are also not viable after their primary reads.
Who comprises the committee at Vanderbilt?
The committee at Vanderbilt will typically include six individuals: your assigned admissions counselor, Associate Director Amy Smith, Associate Director Thom Golden, Director John Gaines, and Dean of Admissions Doug Christiansen.   There may be additional individuals included if circumstances warrant.
What does an admissions counselor do to prepare for committee?
Study! By the week of committee I know which files will comprise the "muddy middle" and 99% of the time I already have written notes on each of the committee files.  However, prior to committee I do a quick re-read and review the file.  For some files I will call the high school counselor in order to collect additional points of advocacy.  I will also do more research on the school context, paying particular attention to the high school profile.  Every admissions officer is different, but I personally write sticky notes on each file with points of emphasis.  Some of these files can be rather dense and I want to make sure to remember the highlights.
How does committee operate?
Each counselor will arrange the files according to geography (it just makes it easier if everyone has a standard order) and will present one by one.  I will open a file and lay out a summary sheet for the committee to review – the summary sheet gives a brief overview of who you are, where you go to school, what type of classes you chose, and the grades you received in those classes.  After a moment I dive into the meat of your application.
I tell my students to think of me as their lawyer in court.  My job is not to admit or deny you; instead I am always your advocate, highlighting for the committee the reasons we should admit the applicant.  Every item you put into your file is another piece of evidence I can draw from and use in committee.
I am also a story teller.  Every student is different and presents different strengths in their application.  I draw out the themes of the file and try to connect who you are today and who you might become at VU.  If the file is going through the committee process there will usually be a significant discussion about the intangibles in the application – items that are not numeric such as leadership roles, wonderful letters of recommendation, or fabulous essays.
Finally, the committee reaches a decision.  It's not always easy.  We only have 1,600 spaces in the freshman class and each admissions counselor has those students they love who were right in that muddy middle, but did not receive admission in committee.  Conversely, there are really wonderful moments where students who had an uphill battle in the process receive a "yes" from the committee.
What happens after committee?
After committee every ED I application file has an initial decision assigned to it.  We spend several days reviewing those decisions to make sure they "make sense".  Then, we print the decision letters for all students and check every single letter by hand.  Amy Smith, my associate director, says that after the families entrust us with something this important the least we can do is make sure the student receives a letter at the correct address, with the name they prefer on the letter, and the correct decision.
Finally, we load ED I decision letters on a mail truck!  We send every ED I letter (regardless of admission decision) in a letter-sized envelope through standard USPS.  Some students who live closer to campus receive letters within 24 hours.  Most students will receive mail within 2-3 business days.  If you do not receive your letter by December 21st you may call the office, but we will not release a decision over the phone prior to that date.  We will never release decisions via email.
How will I know when ED I decisions are mailed?
Read the blog!  I am updating in real time.  In fact, as I type this I am waiting on the committee to call down the hall and let me know they are ready for me to present.   I will post a blog as soon as letters are out the door and then you can start your countdown clock.  We predict letters will be out the door on December 15th, but things may change so stay tuned.
Can't get enough committee talk?  Check out Thom's post from last year!
Questions?  Ask below.