Senior Year Goals
Now that I've covered my academic plans for the semester, and getting inspiration from Alex's Bucket List post, I've decided to share some of my own goals for my final year at Vandy. Most of these goals are non-academic, since, in the end, college is time for personal growth and development in addition to professional pursuits.
Attend more campus events and lectures: Vanderbilt is such a large university with so much going on that it is nearly impossible to attend every event, but it is worth it to take advantage of unique opportunities to see cool speakers or learn something new. As I write this, I am actually sitting in Langford Auditorium, waiting for Terry Crews to come on stage for the first Chancellor's Lecture Series of the year!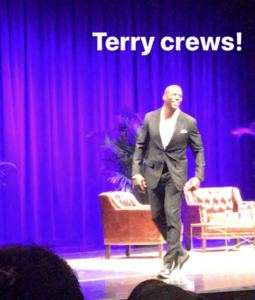 Focus on friendships: Although it is important for me to stay on top of my academics, I also want to make time for my friends this year, since after graduation I probably won't see a lot of them as often. If all goes as planned, when I start medical school next fall, I will have to shift my priorities again to favor my studies, but this year I have enough flexibility in my schedule to spend more time in social settings making memories!
Go to more places in Nashville: It's a bit sad to me that even though I've been in Nashville for the past 3 years, I honestly have not ventured much off campus because of all the studying I've had to do! But this year I've already started seeking out opportunities to go off campus and explore what the city has to offer. For example, I've gone to a few small-venue concerts already – including a free one at Centennial park down the street last week – and got my tickets for tomorrow's Jonas Brothers concert (using my hard-earned summer research money)!
Learn as much variety of knowledge as I can, before focusing on medicine: I feel that Vanderbilt is the place where you can take, and are encouraged to with AXLE, a large variety of courses outside of your primary major. Luckily, I've satisfied all my requirements and only need 1 credit hour to graduate next semester, so I will take advantage of being here and taking whatever interesting classes I can find for next semester!
As always, feel free to email me if you want to learn more about student life and my experience at Vandy! deniz.gungor@vanderbilt.edu