The Great Pacific Northwest Road Trip
Hey pals! It's finally summer, we made it! First and foremost, congratulations to all the seniors who graduated! We are definitely going to miss you. Secondly, congrats to everyone else for finishing up with finals! Hopefully, everyone has fun and exciting plans for their summer; whether it be studying abroad, taking classes, working, or even traveling locally!
I started my summer with a trip to the Pacific Northwest, and oh my God it was amazing! I went to visit my boyfriend and we took a beautiful road trip up the coast. We drove from Fresno, California all the way up to Seattle…well he drove, but I was there for the ride and a little bit of comedic relief. Even though the drive was pretty long some days, the scenery was gorgeous (once we got out of the California desert, of course). During the entire 9 hour drive from Sacramento to Portland, we were able to see beautiful snowcapped mountains, and honestly the largest cows I have ever seen in my entire life. We stopped at one of the vistas to take a picture in front of this mountain that we were able to spot on the horizon for a few hours of our drive!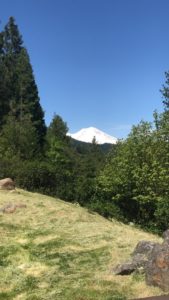 Our first real stop was Portland, Oregon, and guys let me tell you, I for sure underestimated how cool this city is! It's like New York, but so much better. Like if New, York took a chill pill- I loved it! Portland is a fantastic city for art, books, thrifting, and most importantly food! I had some of the best food ever in Portland. If you ever find yourself in the neighborhood, definitely check out SizzlePie Pizza, The Old Spaghetti Factory (spectacular views and even better food), The Waffle Window (a drive-through for waffles- genius!), and Boxer Ramen for the very best Ramen ever. Then for dessert, head over to Salt & Straw for some of the most unique ice cream flavors ever! We also visited the Portland Zoo and Rose Garden, which were both fantastic and within walking distance of each other!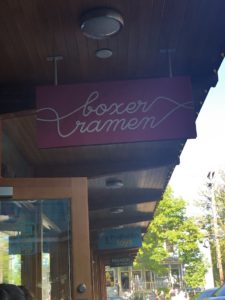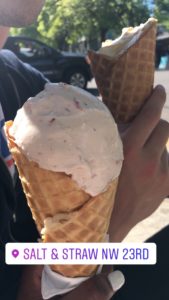 Next stop, Seattle! Seattle gave a lot more of the New York feel, but the views were absolutely stunning! Anywhere you looked, you could see either mountains or the coast, or even a combination of both. My favorite part of Seattle was definitely being right on the coast. We went to a few small beaches and spent some time "hiking" on the trails. When we weren't enjoying the coast, we spent our time exploring the city and the pier. I definitely recommend seeing Pike Place Market, and if you're brave, you can check out the gum wall too! And if you're up for a little driving, you should visit one of the close-by islands, I promise you won't regret it!