What I've Been Up To
Happy March Everyone! I'm home for spring break for the week, and it will be nice to relax, spend time with family/friends, and binge on the latest TV shows for a while. That said, I do still have to work on a research paper for my first year writing seminar; luckily, though, I'm writing about a topic that I'm interested in. I'm also looking to set up my schedule for fall classes because the registration period occurs soon after we return from break. Since my last post, I've also fully decided to major in neuroscience (yay!!) so I've decided to take organic chemistry at a local college near me this summer, which I need to register for.
Even though I feel like Vanderbilt has become my home, taking a break from school is always great to recharge. This past week, I was very busy with midterms (which is our term for anything that isn't a final, for some reason). I had four major exams and two smaller quizzes, but I managed to survive! Here was my schedule: Monday I had a quiz in discussion for chemistry. Tuesday was cognitive psychology, followed immediately by neuroscience, and then a quiz in chemistry lab. Wednesday I had computer science, and Thursday night I had chemistry (chemistry exams are usually from 7-9 PM).
As you can tell, it was a pretty hectic week, but I also made some time to give myself some breaks. On Sunday, I grabbed some lunch with my friend at Sushi 88. On Monday, I went to a free lunch with Dr. Racquel Collins, who is the Assistant Dean for St. Jude's Research Hospital, and she told us about their new graduate program. Tuesday, I registered for housing; I'll be living in a single in Warren College next year, which is one of our residential colleges. Then, after the chem exam on Thursday, some of my friends and I went to Nama and had the best time with some hilarious conversations. Check out my friend's food instagram!!
As you can tell, I've definitely become obsessed with sushi after living in Nashville for almost half a year, and I plan to write a whole post about it later this semester once I visit more places.  I'm also planning on writing about my advice about college decisions, so stay tuned for that!
Looking ahead, I'm really excited about having decided on my major and can't wait to figure out what classes I'll be taking next semester. I talked to a lot of different professors and students in both neuroscience and engineering (I was actually considering BME for a while) and ultimately decided that this is what I'm most interested in. The neuroscience major is very flexible and will allow me to take lots of classes in biology, psychology, philosophy, etc.
The craziest thing is that when I come back from break, I actually only have six weeks left and then my last final is on April 25th! (Vanderbilt's earlier schedule is really nice because I'll have all of May for my summer). I can't believe I'll be a sophomore soon; it feels like this year has been going by so quickly, especially this second semester. Vanderbilt has definitely become my home and I'm excited to be here for the next three years.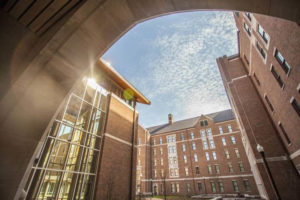 Warren College – courtesy Vanderbilt Flickr