Surviving Rand at Noon
It's Monday afternoon, it's 12:10 PM and your second class of the day just ended, and like any other college student- you're starving. So, what do you do? You head to Rand with the hundreds of other students that just got out of class; ready to grab some food and hang out with your friends.
Rand is your one-stop shop for almost everything you'd ever need while on main campus- literally everything. I like to think of Rand as the mitochondria of main campus. They have food, coffee, meeting spaces, offices, a munchie mart, classrooms, printers, and so much more. Oh, and most importantly, it's probably where all your friends will be hanging out between classes. All this being said, Rand is also one of the most overwhelming places on all of campus, especially during lunchtime.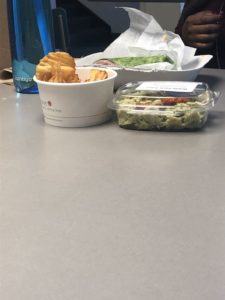 Rand is the central location for most academic classes on main campus, so it makes sense that this is where everyone goes to eat lunch during the week, and they have so many options, it's almost impossible to go there and not find something you'll want to eat. With so much going on around lunchtime, it's almost impossible to go to Rand without a plan of attack. For some people, this means running to Rand so that they can get there before the lines get too long. I admit, it's a great strategy and it's very effective, but I'm just not one of those people (and if we're being completely honest, I'm simply not fast enough for it to be worth it anyway). So, for my fellow non-runners, here's some advice.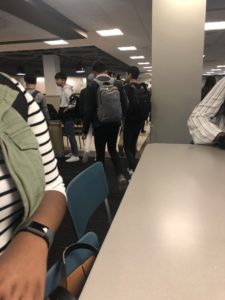 Never try to eat right on the hour, or even 10 minutes into the hour. If possible, get in line at least 15 minutes before the hour. If you're lucky enough to be in Rand before noon, then the best time to get in line is around 11:40 or 11:45. The lines usually aren't bad at this time, and you'll definitely be able to get your food before it gets too crazy in there. If you're not one of the lucky few that have this luxury, you might be stuck waiting about 45 minutes until you can actually get in line. 12:45 or 1:10 will probably be your best bet for getting food. By then, all of the people that have to rush to get to their 1:00 class will be gone, and the lines are sure to be shorter. In the meantime, find a place to sit, do some homework, and catch up with some friends.