Done with the first week of 2nd semester!
Now that my schedule for the semester has been finalized, I can share my spring course schedule with you all! Here's what my week looks like: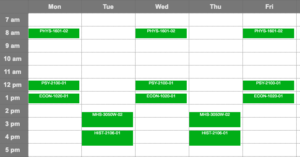 Physics 1601: Though I took this class last semester, I am retaking it to improve my grade. A nice thing about retaking courses at Vandy is that if it is taken within a year, the new grade will replace the original, so it's like another chance to do well. Now that I know where I went wrong with my studying last semester, I am much more prepared to really learn and appreciate Physics! Side note, Dr. Dutta is THE physics professor to take, because through his passion for the subject he makes the material more interesting to learn.
Quantitative Methods (aka Psych Stats): Since most medical schools now either require or recommend statistics, I decided to take this course because it also satisfies my MHS (Medicine, Health, and Society) core requirement. Two birds with one stone! Additionally, Psych stats is much more manageable compared to Math Stats, which I have heard is quite difficult.
Principles of Microeconomics: Yet again, I have famed Professor Buckles! Microeconomics is the natural continuation of macroeconomics, where we will learn more about how businesses make choices alongside broader economic trends which we learned in Macro. Upon completion of this course, next semester I will, hopefully, take Health Care Policy. Yet again, micro counts as an MHS elective!
Medicine and Literature: This is an upper level MHS course with a writing component, in which we will read many literary media relating to health/medicine and work on improving our written communication. Being a smaller, discussion-based class, it provides a nice contrast to my other lecture-heavy courses. As a perk, it counts both for the MHS disciplinary and AXLE writing requirements!
The Global History of Tea: In this class we are learning about the commodification of tea, or how tea became a commercial product starting in China and spreading throughout Asia and then the world. I chose this class to satisfy the AXLE international cultures requirement, but also because I love tea!
Research for credit through MHS: Though it doesn't appear on my schedule up there, I am also in research for 1 credit hour, which is about 3-4 hours a week. I will be working with a research group at VUMC investigating the stigma experienced by patients with Type 2 Diabetes, where I will be calling and surveying patients.
MCAT Prep: Also not included in the picture, but since I am scheduled to take the MCAT on June 1st, I am already starting to review and study. My plan is to do at least 1 chapter from the review books each day, and during the month of May, after classes end, I will focus on taking as many practice tests as I can.
If you would like to learn more about these classes, pre med, MHS, MCAT prep, or anything else, send me an email! deniz.gungor@vanderbilt.edu