Life as a First Generation College Student
Hey everyone! My name is Toby, and I'm a first generation sophomore student here at Vandy. I am in Peabody College, studying child development and Psychology. Outside of class, I work as an undergraduate research assistant in the Little Learner's Lab, am secretary of our first-year Honor Societies (Alpha Lambda Delta and Phi Eta Sigma), secretary of Peabody bridges, and Vice President of 'Dores for Israel.
I am also the secretary of FirstVU, the on-campus student-run organization to support, celebrate, and empower first-generation college students! Personally, I fit within the umbrella term of first-generation student because I grew up in a religious community which looked down upon secular education, particularly higher education for women.
Because my parents had never stepped foot on a college campus before the tours we went on during my application process, they were unable to provide me with the knowledge and wisdom most people have from their parents of how to adjust to and thrive while in college. Although I had other resources  that I could turn to, the boundaries to my understanding of university life began to present themselves over the summer and throughout my first semester on campus.
As first generation students, our parents don't know what college life is really like.
We lack the stories that others have heard growing up, the legacy of sorority or fraternity groups, and the understanding of daily activities, lectures, and parties common to all American college campuses. Thus, when I arrived on campus, I was less prepared for the social, educational, and emotional challenges that I would inevitably face. This absence of instruction and understanding puts almost all first generation students at a disadvantage from day one.
When I found out about FirstVU during my first year, I was both relieved and excited. We met regularly, connecting with each other on a deeper level of understanding since we could all relate to one another. We talked about the frustration of lacking a parental guide to the college process and the confusion of navigating the brand-new atmosphere.
FirstVU provided me with a family of students that could help guide my experience on campus, having lacked this guidance from other sources.  
They were also able to help me with signing up for classes, advising me on which professors to take, and how to correctly add and drop courses. With FirstVU by my side, I felt more equipped to face the tumultuous reality that  was freshman year.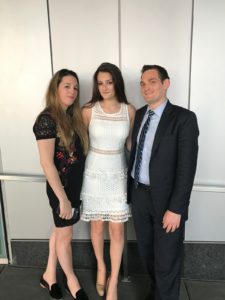 By holding monthly general body meetings, connecting with upperclassmen mentors, and increasing opportunities for open discussion and dialogue surrounding the first generation experience, FirstVU helps to make  overall college life for first generation students much easier to navigate and more enjoyable, as well as making academics easier to manage.
All this being said, you definitely don't need to be first-generation to join FirstVU. We hope to promote the inclusivity and discussion of first generation life on campus and build a strong, core group of students who can identify with and support our organization, whether or not they identify as first generation.
If you have any questions, or just want to talk about first generation college life, feel free to email me at
toby.e.irenshtain@vanderbilt.edu
! Thanks so much for reading!