Food, Food, and More Food
Anyone who knows me well, knows that food is truly my first love. I have always loved trying new restaurants, and that has definitely not changed while attending college. So far, I've tried at least a dozen different restaurants in Nashville. I have enjoyed so many, but I have somehow managed to narrow it down to my top five favorite restaurants. Here they are in no particular order!
Note: None of these restaurants currently accept Meal Money, so make sure to bring real money with you!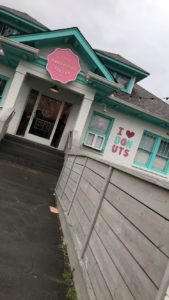 Five Daughters Bakery
To be completely honest, I may or may not have cried while eating a donut from Five Daughters. They are absolutely amazing! This bakery is located on 12th Avenue South (commonly called 12 South), which is only about ten minutes away from campus. I highly recommend the Vanilla Crème and Maple Glaze donuts!
Monell's
I visited Monell's last semester for a friend's birthday brunch. Your party sits at a long table that seats about 12 people. If you do not have 12 people in your party, then the rest of your table will be filled with strangers. The staff members strongly encourage you to not use your cell phone at the table since it is set up like a "big family dinner." About ten different dishes are brought out and placed on your table at once for everyone to serve themselves. Since I went at brunch, we had pancakes, biscuits, bacon, ham, fried chicken, cinnamon apples, grits, and many other great dishes! I would definitely visit Monell's again without hesitation!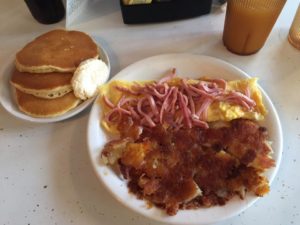 Pancake Pantry
This restaurant is only about a 5 to 10-minute walk from Commons. They offer a variety of breakfast foods including numerous different pancake varieties including strawberry shortcake and peach! If you're indecisive like me, the omelets come with three pancakes, so you can easily have both! The pancakes melt in your mouth, and I highly recommend them. However, the line to get in is often very long, so be sure to go at an off-peak time or when it's raining.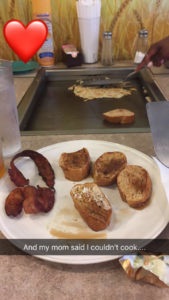 The Pfunky Griddle
Pfunky Griddle is about a 20-minute drive from campus, but it is definitely worth the drive. At this restaurant, you are able to cook your own breakfast at your table; almost every table has a griddle built into it. After you order, your server brings you the ingredients and a few kitchen utensils for you to prepare your food. I made my own French toast, and my friends made hashbrowns. We were very proud of ourselves!
PizzaRev
PizzaRev is located literally right across the street from my dorm, which is a good thing and a bad thing. I visit this restaurant so often that I have the rewards app on my phone, and I am halfway to my second free pizza! At PizzaRev, you are able to create your own pizza from scratch with as many topping as you want. It's like a Subway except for pizza. They bake the pizza right in front of you in a brick oven, so it only takes about seven minutes. Definitely visit on Tuesdays because they have pizzas for $6.99!
If you want to know the specific dishes that I tried at these restaurants or have additional questions about where to eat close to campus, feel free to email me at ashli.alexander@vanderbilt.edu!