Melanated Takes ICCA
So, if you haven't heard, my a cappella group, Melanated A Cappella, advanced to the quarterfinals of the International Championship of Collegiate A Cappella (ICCA)! If you're unfamiliar with this competition, it's the same one that's featured in all of the Pitch Perfect movies! It was such an amazing feeling to see our name on the website, alongside Harmonic Notion's, as one of the groups representing Vanderbilt in the competition. This was our first year submitting an audition video for this competition, so we were even more excited about this opportunity.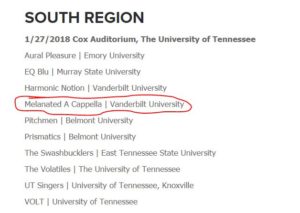 To prepare for the competition, we held a "Melanated Bootcamp" over one weekend where we practiced for a total of 15 hours. During this time, we fine-tuned musical dynamics in our songs, diction, and choreography for our set. Although we were exhausted by the end of the weekend, we accomplished so much! In addition, a few days before the competition, we had a set exchange with Harmonic Notion. During this meeting, both groups performed for each other and gave advice on what could be improved and complimented what went well.
On Saturday, January 27th, we travelled as a group to the University of Tennessee – Knoxville for the competition. We competed against eight other a cappella groups from various schools in our region including Belmont University (Nashville, TN) and Emory University (Atlanta, GA). For our set, we performed "Here" by Alessia Cara, "Skyfall" by Adele, and "Survivor" by Destiny's Child. Singing on such a large stage with so many people cheering us on was exhilarating. Here are some pictures of us performing!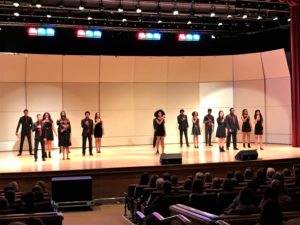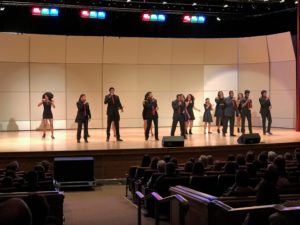 Even though we did not place in the Top 2, we still had an amazing time and gained so much knowledge and experience. Hopefully, we will be able to compete again next year! If you have any questions about the process of my group auditioning for ICCA or just the group in general, feel free to email me at ashli.alexander@vanderbilt.edu! Here's one last photo!