Rand Bowls: A Love Letter
Oh Rand Bowls, how I have been missing you. If you are not a Vanderbilt student, or have been under a rock the whole last year, you may have never tasted the scrumptious midday treat that is a Rand Bowl. Light and healthy, it is the perfect lunch for a student on the go (or a student who has 35 minutes to wait in line for their food).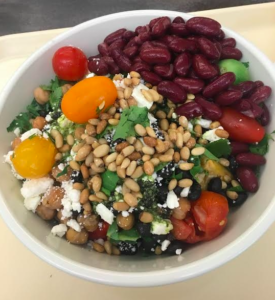 If you have not been under this metaphorical rock I just mentioned, you have seen the mile-long line at during lunchtime at Rand – the famous quinoa, barley, or freekah-based main dishes that are only offered during lunchtime and attract person after person until we are spilling out into the aisle of the dining hall. However, with a new version of "the Bowl" on Commons, the line may have shrunk a bit (freshmen at Vandy really do have it all).
With a wide array of grains, meats, veggies, and other toppings, it is easy to get overwhelmed, but you gotta love the rush. After studying abroad last semester, the Bowls are one of the parts of campus life that I am most looking forward to. Quinoa, kale, chickpeas, tomatoes, feta, pine nuts, a pesto drizzle…yum. Though you may have to avoid fun nights at the Pub, eating healthy on campus is very possible. Sometimes meals get monotonous, but once you leave campus you will have cravings like none other!
See you in the Bowl Line in three short weeks.