There's No Place Like Home
It is that time of year again for returning Vanderbilt students – the time where everything falls into place or everything seems to cause a lot of stress – housing selection! While it lies somewhere between an exciting and a daunting process, choosing the right type of housing, as well as the best roommates for you, is essential to create a healthy and happy environment for the year to come.
Vanderbilt is somewhat unique in the fact that most students live on campus for the duration of their undergraduate years here (I would use the term "all 4 years," but I need to respect the transfer and nontraditional students on our campus, like myself!). Aside from the fact that classes are closer, I believe that this helps foster a sense of community and help everyone remain in the hub of student activity.
The Office of Housing and Residential Education is extremely helpful in navigating housing options and offers a lot of insight on their website. If you are dying to know the intricacies of the application process, feel free to check out the housing guide as well. Sometimes the timeline for housing is a little confusing because most residences have their own rules and processes, but you can worry about that when you're a student here :)
The Commons: Cheers to our freshmen students! You're lucky to start off at Vandy like royalty – the Ingram Commons are our beautiful dorms solely for freshman students. With a full-time faculty Head of House who lives there with his or her family, as well as wonderful Resident Advisors and a lot of programming and activities, the Commons is the hub of student life for freshmen. I think this video explains it all. Crawford, East, Murray, Gillette, North, Stambaugh, Sutherland, Memorial, West, and Hank Ingram (or "Hotel Hank") compete for the Commons Cup, a Harry Potter-esque challenge of service and events that culminates in a winning house at the end of the year. Take a closer look at the Commons experience.
Branscomb Quad: Branscomb consists of four smaller residences, Vaughn, Lupton, Stapleton, Scales. This is the typical residence for sophomore students who are transitioning from the Commons, but still want a close-knit community with those in their same year. Rooms are either traditional doubles, or two doubles connected with a "bathroom" (a toilet and sink, no shower) in between. There are communal showers on each floor.
Blakemore: Blakemore is undoubtedly the furthest away from campus. However, if you can deal with the long walk, it has its perks. Blakemore residents have the pleasure of eating at the all-you-can-eat McGugin dining hall, which is usually reserved for varsity athletes.
McTyeire: Alumni Lawn. Hola! Bonjour! Hallo! McTyiere Hall is a living-learning community for students who would like to improve their fluency in a foreign language. Currently, there are floors for students who would like to speak French, German, Japanese, Chinese, Spanish, or Russian on a regular basis; there are dinners 4 nights a week where you are required to communicate solely in your chosen language.
McGill: Alumni Lawn. Known for its inclusivity, McGill is an open-minded community of students where expression and discovery is one of the main focal points. If you want to hear more about McGill from its own students, check out a podcast for Vanderbilt Hustler done by Vandy student (and my beloved roommate!) Anna Butrico.
Tolman and Cole: Alumni Lawn.These are our two single-sex dorms on campus. Ladies make their home in Cole, while guys head to Tolman. They are all single rooms and very centrally located right over Alumni Lawn.
The Mayfields: Highland Quad. All students who choose to live in one of the Mayfield Lodges on Highland Quad contribute to a service-learning project that the residence decides to take on for the school year. The self-directed project can be an excellent opportunity to pursue your passions and community service interests. Groups of students interested in living in a Mayfield must apply and have their project be chosen.
Morgan and Lewis: Highland Quad.Though the Mayfield apartments are technically part of Highland Quad, it seems to be seen as a separate entity. When students refer to "Highland," they typically mean Morgan and Lewis Halls. Tip: Morgan has a Munchie Mart (a little 7-Eleven type place), so that may be the better choice out of the two.
Chaffin Apartments: Highland Quad.These are little apartments with two double rooms and typically two-story. A Chaffin apartment offers an adult-like living situation, with a kitchen and living room, as well as a homey feel. 
Fraternity and Sorority Housing: Greek Row. Most active Greek chapters on campus have six students who live in the house. These are often members of the executive board of the organization, like President, Vice President, etc…
Kissam: More specifically the "College Halls" (http://www.vanderbilt.edu/collegehalls/ ) of Warren and Moore, Kissam is our most recent development in housing. They are meant to be living-learning communities where undergraduates, faculty, graduate students, and staff live together. Its beautiful exterior and pristine bedrooms leave not much to be desired. All students after freshman year have an equal opportunity of living here through the housing lottery, though typically juniors and seniors pursue this option more fervently. Kissam offers many options, including traditional single rooms, traditional double rooms, and suites for four, five, or six students.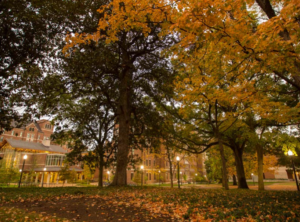 Towers: Oh, beloved Towers. I lived here in a six-person suite last semester as a junior (which was very lucky), and will hopefully be able to live there again next year. Though it is definitely a little run-down, the location and the amount of students who live here outweigh the negatives. There are technically 4 Towers buildings, but are more frequently separated into just two buildings, Towers 1/2 (East) and Towers 3/4 (West). Towers offers traditional singles, traditional doubles, and six-person suites which consist of 2 single rooms and 2 double rooms. There is an underground hallway that connects the two, so you do not need to worry about ever getting caught outside in the rain!
Other options!
Not convinced that living on campus would be the best choice for you? Some students, typically juniors and seniors, go through the application process for off-campus housing. There are many apartment complexes being built right now that clearly reflect the growth of Nashville's population in general. Elliston, Wellesley, Village, and the newest, Aerston, are popular choices for students and are within walking distance from academic buildings.
I hope this gives you a better idea about the housing options on campus and what to expect when you get here!