Dance Marathon: The Big Event 2.0!
Last weekend, Dance Marathon finally got to have our Big Event, our biggest fundraiser of the year! Dance Marathon is Vanderbilt's largest student run philanthropic organization and all of the money the organization raises throughout the year goes directly to the Monroe Carell Jr. Children's Hospital right here at Vanderbilt! Dance Marathon is one of my favorite organizations that I am involved in because its so rewarding to see the direct impact we have on our community. This year, Dance Marathon's goal was to raise $267,000 dollars, $1000 per existing bed in the children's hospital, in order to fund an expansion of the hospital. Over the course of the school year, over 100 committee members work to begin raising this money, planning fundraising events, and prepping for the Big Event. This year, I was on the fundraising committee, which meant I was in charge of contacting sponsors and ensuring that Dance Marathon reached its fundraising goal! Not only was working with my awesome committee so much fun, but I also acquired so many valuable skills, such as planning large scale events and contacting corporate sponsors, that will be useful in my future.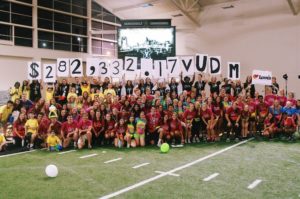 Last Saturday was our Big Event 2.0, as the originally event had to be rescheduled due to a health concern for the children. The Big Event is 13.1 hours long, the length of a half marathon, and no one is allowed to sit during the entire event! This is to show our support for the kids in attendance who have spent so much of their lives fighting illnesses. Each hour, a Miracle Child who has been treated at Monroe Carell and their family share their story with the students and community members in attendance. Also on every hour, the moral committee leads a dance party, and more food arrives, like chickfila and chuy's! The students who attend are called 'dancers,' and they help to fundraise and get to play with the Miracle Kids at the Big Event. This year, with everyone's help, Dance Marathon reached a new fundraising record: $282,332.17 for the kids! I am so proud of what my committee and the entire Dance Marathon community accomplished this year, and I can't wait for next year!