SAQ: How has Phi Lamb Impacted You?
Welcome to SAQ, where Sophie Answers Questions! Here, learn more about Phi Lamb, the Christian sorority on campus.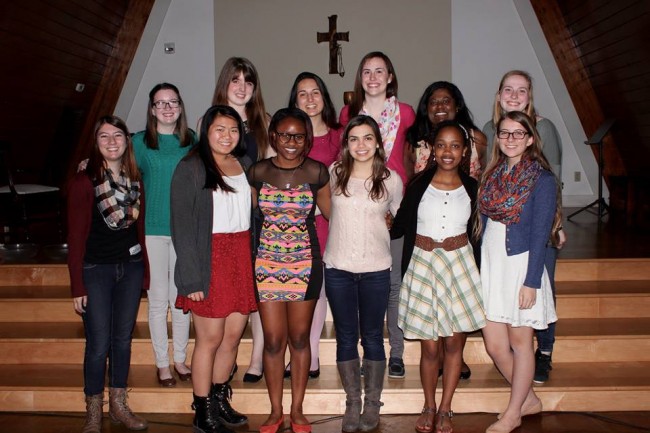 Phi Lamb was one of the best decisions I made my freshman year. My 'pledge class' (the people who go through New Member Education with) was about 6-7 girls, and I made some of my closest friendships at Vanderbilt in that class. There was something about spending an hour and a half just talking about our lives, the different things that we were interested in, and things that we were struggling with/working through during New Member Education and then coming together to do Praise and Worship on Monday nights that bonded us so close. I like to know a lot of people, and I have friends in many different organizations/groups at Vandy, but rarely have I had the type of deep friendship that I did with my Phi Lamb sisters, especially with those of my pledge class.
Being raised Catholic definitely made me a little bit of an outsider at first, just because I was not used to the frequent small group discussion and the incredibly open sharing of faith. But it was really awesome to learn more about the Bible, to hear girls talk about their 'faith journey,' things that they struggled with, and how they trying to grow closer to God. Phi Lamb also connects you to a bunch of the sweetest upperclassmen girls ever… and it is so, so nice to still catch up with them over coffee and talk for hours, even though I'm not in Phi Lamb this semester.
The time commitment is an hour and a half long chapter on Monday nights at 8 PM. It's a nice time because usually Mondays are kind of stressful getting back into the week, and the first thing we do is always Praise and Worship, which is super nice. The first semester that you're in Phi Lamb, you'll also have New Member group sometime during the week that will work for you (they move it around every year to make it work with everyone's schedules), also for an hour and a half. Then there are a few service events, prayer events, and a few fun date parties that you have to attend for points, but honestly, it didn't seem like much of a time commitment, mostly because you're spending time with people you really like. I've really never known anyone who didn't like the community of Phi Lamb, because it's one of those things that's a little different for everyone but gives all the members such a great experience.
I'm leading a University Catholic first-year girls' bible study right now, and Phi Lamb helped me learn to be able to talk about my faith with others. It gave me a lot to think about — there was never a night that I walked back from St. Augustine's (the chapel where we have chapter) that I wasn't thinking about something someone had said or something that I had read during Chapter. Phi Lamb also helped me form great relationships with my big, my grandbig, and the rest of my 'family' (your big, gbig, and all the bigs above that… because we have rush twice a year, the families get kind of complicated! :)) which helped me when I needed help with classes, just needed to talk, or wanted to ask advice about something. Phi Lamb also helped me feel confident in being a college student, mostly because I had such great models to look up to. And the super welcoming nature of Phi Lamb (the asking you for coffee, lunch, if you want to see a movie, if you want to go to breakfast out somewhere, if you're free on the weekend…) made me feel SO welcome at Vandy, in a way that no other organization made me feel. All in all, it was just fantastic inspiration in how to be a good friend, a better student, and more connected to God.
I really miss participating in Phi Lamb and if it weren't for all the activities I am doing this semester, I would totally be in it again. It's really hard to describe in words but I feel like Phi Lamb is a huge part in the way that I am now. I hope that doesn't sound too cliche, and too intense, but really, Phi Lamb is just a relaxed way of making super great relationships that are hard to find outside of St. Augustine's chapel. I hope that helps!