My First Year Classes
As soon as I submitted my deposit and became an official member of the class of 2019, I was pretty anxious about what classes I would take the following fall and what I would study. I did a lot of thinking, planning, and reading of blog posts to decide what I, a highly undecided student should choose, so I hope this post can help people who feel the same way now. I'm in Arts and Science, so I don't think this will be much help for Engineering, Peabody, or Blair, but if any students in those schools have questions please send me an email and I can contact one of my friends for you.
Class registration is through YES (Your Enrollment Services), which I think you can access as soon as you have your VUnet ID, but don't hold me to that. You can also look at the course catalog, which lists all Major and Minor requirements, along with every class offered at Vanderbilt in the past 7 years.
In order to appease my parents and due to mild interest, I knew I had to take something pre-med related, so of course General Chemistry I (CHEM 1601) had to be somewhere on my schedule. Also, as part of AXLE's writing requirement for the College of Arts and Science, first years have to take a writing seminar, and there are so many cool options available like Freakonomics, Disney in America, Cryptography: the History and Mathematics of Codes and Codebreaking, and Mass Incarceration in the United States to name a few. I ended up take Classic Russian Short Novels (RUSS 1111), which is something I had been interested in learning about, but had minimal experience with. I also chose to take Intermediate Spanish Writing (SPAN 3301W) and European Society and Culture (EUS 2201), which, along with my Chem Lab (CHEM 1601L), brought me to 13 hours total for my first semester.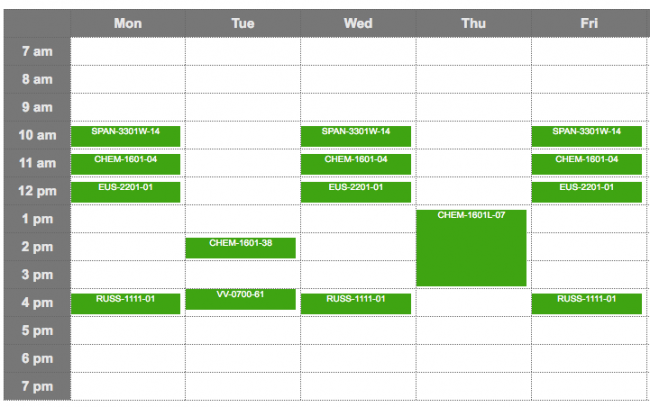 As you can see, I totally avoided that 8 AM life, which I'm really thankful for because 8 AM's are basically impossible in college. I was a bit nervous about taking 13 hours (the minimum is 12) when it seemed like all my friends from home who attend other schools and future peers I was meeting through social media were choosing to take 17-18 hours (the maximum is 18). However, my CASPAR advisor, who is assigned to each A&S student in Early June, reassured me that my AP credit from high school guaranteed that I'm on the right track (disclaimer: if you don't have AP, IB or dual enrollment credit, you don't need to worry either! I know many people who came in with no college credit and are perfectly fine). Also I would recommend going with an easier class load for your first semester because the transition from high school to college is actually difficult (I know everyone has said this, and you don't believe them, but it has to be said again), so just jumping in with Chem, Bio, Calc, and Neuroscience like a lot of my friends did is not a good idea. I want you guys to enjoy your first semester, so give yourself free time to go to events all over campus and hang out with friends because often the friends you make in that first month of school will be your friends for a long, long time.
The courses I selected were very manageable in the sense that I took only one of the notorious weed out classes, so I honestly was not that stressed or overloaded at all last semester, which allowed me to achieve the best GPA I could to start off with, and also take care of myself as I got used to being away from home. I know a lot of you pre-meds are going to want to get all your requirements done as quick as possible, and taking only one "weed out" class seems too easy, but what I would recommend is 2 at most. So you can take Calculus and Chem, but not Bio, or Bio and Chem, but please don't take all 3 at once. Also, if you need any help deciding which calculus course you should sign up for (MATH 1200, 1300, 1301, 2300, or 2500) definitely send me an email and I can try to help you out.
Second semester was different because I knew that I wasn't about that pre-med life and had found some things I was interested in like sociology, political science, etc. At this point in time, I realized my interest in majoring in Public Policy and Spanish, so I decided to take some related classes. I needed calculus for all of the economics classes I would be taking for PPS, and Spanish was a given, so for the rest of my classes I chose things I was interested in. First year is the time to explore your interests, so don't be afraid to take things that don't fulfill requirements for your major or minor.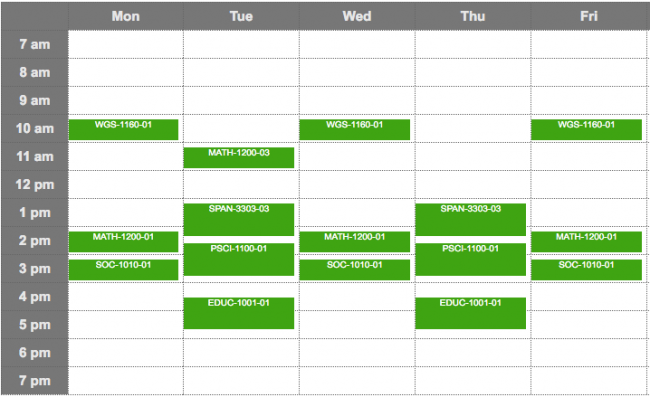 As you can see, I took MATH 1200, which is Single Variable Calculus I, Intro to American Government (PSCI 1100), Intro to Sociology (SOC 1010), Sex and Society (WGS 1160), Intro to Spanish Lit (SPAN 3303), and my Commons Seminar, which I talked about in detail here. That totaled to 16 hours, and it was very manageable.
Finals start next week, and I'm happy with where my grades seem to be headed as the semester ends. What I've learned in the past year is that planning your schedule is all about balance. Vanderbilt's motto is "Work Hard, Play Hard" so you need to give yourself the time to enjoy yourself, while also challenging yourself academically.
I'm excited to see how next semester goes! If you have any concerns, don't hesitate to email me at farah.arif@vanderbilt.edu!