Galentine's Day: Nashville Edition
Often times, Valentine's Day means the same thing: roses, chocolates, long dinners, movies, and goodies (yes. they still count when they're from your mom).
However, this year, my best girlfriends and I decided to put a spin on the at times tedious holiday. We had our very own Galentine's Day. And yes, it was absolutely the best thing ever.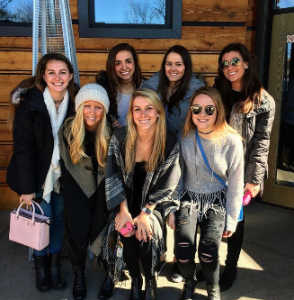 In true girly-girl fashion, we woke up and got dolled up for our eight person brunch at Urban Grub, a delicious restaurant that I had been dying to try on 12 South. If you aren't familiar with Nashville neighborhoods, 12 South a trendy strip only a mile from campus. Our two hour meal was nothing but laughs and stories, putting our very first Galentine's Day off to a good start.
The table was stocked with mini banana muffins and biscuits with jam. In short, we all swooned over the warm basket. Full and satisfied from my Huevos Rancheros Enchiladas (get them, seriously) we took a walk down 12 South, which is frequented by most Vandy students and has a ton of delicious restaurants for every meal. Even though it was freezing, we had so much fun window shopping at all the cute boutiques and checking out the next restaurants to put on our lists.
As we appreciated our day together, we all could take a breath of relief to be with our friends and not on an uncomfortable forced date or alone stalking the couples bombarding instagram. Even if some of us had boyfriends, there's something to be said about quality girl time even on the most couple-y day of the year. I realized it had been the first time in awhile that we were all together doing something besides studying. At Vanderbilt, it's so easy to fall into the study, eat, sleep mentality that you forget to work some "you" time into the equation. It went so well that we're already planning our Galentine's next year.