An All-Star Weekend in Nashville
Last weekend, Nashville welcomed and hosted the 2016 NHL All-Star Game, bringing in visitors from all over the country. As a hockey fan, I didn't think twice about heading downtown to be a part of the action. While I couldn't get my hands on any tickets for the actual game, I was happy to attend the All-Star Fan Fair at the Music City Center, a huge convention center (in the shape of a guitar, of course) right across the street from Bridgestone Arena where the game took place.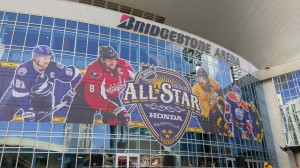 The Fan Fair lasted from Thursday through Sunday and included plenty of hockey-themed activities, unbeatable food, and free outdoor concerts. My friends and I headed down on the last day, arguably the best day because temperatures climbed into the high sixties, so the weather was perfect. We decided to go on the last day because one of our favorite Preds players, Pekka Rinne, was signing autographs that day, and we were determined to take this opportunity. We ended up being around the twentieth in line, and after a long wait, we got to (very quickly) meet him and get his autograph! I had a short conversation with him, and he signed a Predators hockey puck for me– needless to say, it made my weekend (okay, it made my whole month).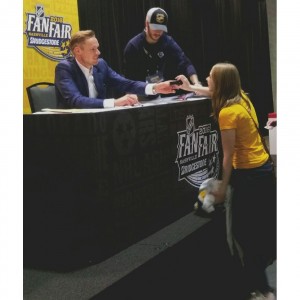 After we met him, we walked around the rest of the Fan Fair for a little while. I tried my hand at shooting a puck onto a target and failed miserably, so I think I'll stick to watching hockey, rather than playing it. They also had Maggie Moo's Ice Cream, which is incredibly delicious and occasionally caters for Vanderbilt events!
Living so close to downtown Nashville is easily one of my favorite parts about going to Vanderbilt. Because campus is located in a growing city, we have plenty of opportunities for weekend adventures and cool stories. Not to mention, you never know who you'll meet around town! Vanderbilt truly gives a small campus feel in a big city setting, offering us the best of both worlds.
As always, if you have any questions about what it's like to live in Music City or attend Vandy, I'd be more than happy to help!
-Elizabeth
elizabeth.h.paul@vanderbilt.edu