Paper Airplanes and Solar Sails: Engineering Day 2015
Hello everyone! The holiday season's here, which got me thinking about some of my favorite winter traditions at Vanderbilt. One in particular, actually, that happened earlier this month: Engineering Day.
What's Engineering Day, you might be asking? (Or not asking – it's a pretty self-explanatory title.) Essentially, Christmas came early for us lucky souls in the Engineering School. After months of hair-pulling caused by programming assignments and circuit designs, I received an email with a bright blue flier attached from the Engineering Council. "The Engineering Council presents: Engineering Day 2015!" Imagine my excitement. A date matched only in anticipation by the new Star Wars premiere!
Okay, maybe that is a bit of a stretch. It's possible I've laid the suspense on a bit too thick. Nevertheless, it's a big event put on each year by the elected student officials of the Engineering Council, and it's exactly what it sounds like: a whole day's worth of events in Featheringill Hall, centered on all things engineering.
That means 3-D printing. The Design Studio, a 3-D printing lab open to engineering students year-round, was holding a workshop to teach anyone who was interested how to print in three dimensions. There was also an outreach component, with students giving their time and energy to building medical kits. There were sundaes, too – with ice cream made from liquid nitrogen. And no Engineering Day would be complete without the ultimate engineering design competition: the paper airplane contest. The farthest I saw was launched from the stair landing and flew almost the entire way across the atrium.
All of these things were great, and the lobby of Featheringill was packed all day. But by far my favorite part of the day was the speaker I attended. It wasn't the keynote talk, which was given by Vandy alum Morris Morgan, a Hampton University engineering professor. I couldn't get to that one, but I did hear a talk by Les Johnson, a NASA researcher. He spoke to us on his past and current work with solar sails, a relatively new technology that uses the sun's radiation to propel small spacecraft. It sounds straight out of science fiction, but Johnson's team is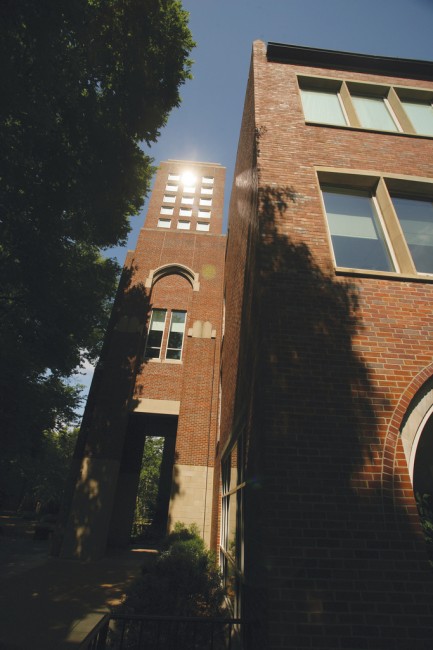 actually building a sail to send a spacecraft to an asteroid.
Anyway, I won't bore anyone with the details, but for a NASA fan and science nerd like me, it was awesome. All that was left was the catered dinner, brought to us by Maggiano's Italian cuisine. All in all, a good day and a good break from what can sometimes be a stressful life as as a Vandy engineering student.
Hope I can be more prompt with my posts in the future to keep any interested students out there in the loop about stuff like this. Until then, Go Dores.