A Plug to People Watch
Not 21? Tough luck! You can't get into almost any of the Broadway joints at night to see all of the live music and enjoy the different scene… and it's definitely different from Vanderbilt's scene. If you're an undergrad at Vanderbilt, you're probably never around Broadway unless you have a visitor and almost forget about the honky tonk scene. It's easy to let it escape your mind that just miles from campus is an alternate world of cowboy boots, line dancing, and tourism. Oh, and it's a ton of fun.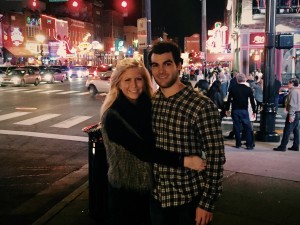 However, I took it upon myself (when I should have been studying for my finals, oops), to take a night exploring downtown Nashville. After all, what's better than people watching in downtown Nashvegas?
The beauty of Broadway is that everything is within walking distance. Want to dine at a nice restaurant? Remember the night forever with a tattoo parlor? Dance the hours away at a live music bar? Just walk one street over to find everything you never knew existed. Walk all the way down Broadway to see the river front at night. As I was adventuring, I saw all kinds of people, both tourists and native Nashvillians – and it sure was a spectacle.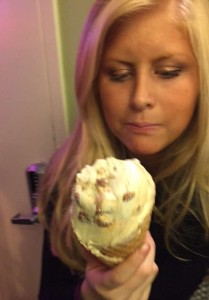 Personally, I chose Mikes Ice Cream parlor over the tattoo shop (I had to redeem myself for not studying somehow and figured two bad decisions in one night might push my dad over the edge).  My friend and I spent the night walking the streets, looking at the holiday lights, and glimpsing into the bars with live music.
For an 18 and up night out that let's you in on the fun, try out long time Vanderbilt favorite Lonnie's to get as close as you can to a Broadway experience. So, take a night, round up your friends, and experience the Nashville we all know and love through a tourists' lens.