Random Roommate: Then and Now
I know what you are thinking reading the title of this post: yikes. This is another story about a random roommate situation that went horribly wrong and now she's writing about what she learned and how it made her a better person. If you are thinking this, I would like to let you know you couldn't be further from the truth.
Not knowing anyone coming into Vanderbilt, to find a roommate I had two options (you can find out more here). One was to online search for one on outside sites like Roomsurf or on Facebook groups (a proposition I found more daunting and overwhelming than helpful). My other option was to go random. At Vanderbilt, "going random" entails filling out a quick five question survey about your basic living habits (if you can study with music on, what time you go to bed, etc.) and giving Vanderbilt the power to place you with another like-minded student. In early August, when I got the name of my roommate (Meredith) in the mail and saw she was from New York City, I couldn't help but be a little nervous. I was from a small beach-only suburb of a large Southern city, and I didn't know how our lifestyles or outlooks on the world could ever be compatible enough to create a harmonious living situation.
The first day of school was the first day Meredith and I ever met, and I knew we would hit it off immediately during our first conversations. Long story short, she quickly became my best friend. She was unlike anyone I had ever met, and I learned more about life my first semester in my long late night talks with her than in any of my classes. This year, we chose to room together again, now in a suite style dorm with two other girls we met on Commons.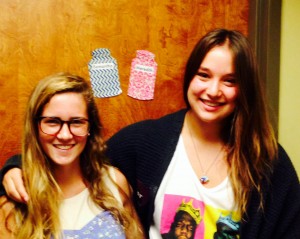 The moral of this story is not to scare you into thinking random roommates are always a nightmare, and it's also not to reassure you that he or she will be the best friend you have ever had. The moral is to go into any roommate situation, but especially a random one, with an open mind. If I had been the least bit closed off or apprehensive towards this stranger who was unlike all the friends I'd had in the past, I may have missed out on the opportunity to get to know and appreciate the person I now proudly call my best friend.
Interested in reading more about freshman roommates? You can find more stories here and here on the Inside Dores blog!