Of Procrastination and Homecoming
It's a cliché, but it's true: College is definitely not all fun and games. I mean there is a lot of fun and there was definitely a game, specifically, the Homecoming game, but more on that later.
The thing about college so far is that it hasn't necessarily been impossibly difficult content-wise. The real issue is procrastination. You may think you knew procrastination in high school (senioritis was real I won't lie), but procrastination in college is next-level. See, I thought I had everything planned out, academics were good, everything was on point, but then everything caught up with me and BOOM – the worst week of my academic life (so far) began…
Here's what I was facing: two big essays, one thesis, and one chem midterm. In retrospect (considering this was 2 weeks ago – I'm very behind sorry), it wasn't impossible, but after relaxing in my nice, comfy room at home all of fall break I really wasn't in the academic mindset. That's another thing: it's so easy to fall into these mental traps, and what I've learned is the best way to avoid them is to plan everything out way in advance and stick to the schedule! It makes me feel so much better when I actually follow my schedule for the week and cross things off my checklist, so going from a "I'm gonna write this due date on a random scrap of paper and hope for the best" kind of girl to actually using my planner is a big step in the right direction, and I'd definitely recommend it.
This week was really great because it forced me to leave my room (a place I always think I'll study in, but never actually do) to find places to be productive. Central Library and Peabody Library were usually full because everyone had midterms, and I was on the search for other places to study, so of course I remembered an article I read last year about underrated study spaces, and it was a life saver. I wasn't able to check out all the spots, but Rand is one of my favorite places to study now. Another great one is Cohen Memorial Hall, which is right next to my house, North (click here to see me wax poetic about North #NorthIsBorth). It's an art gallery, so it's beautiful, and a lot of people don't realize you can study here, so it's a really nice and calming space.
Let's shift gears from academics to the "fun and games" I mentioned earlier. If you haven't heard, "Work Hard, Play Hard" is Vanderbilt's unofficial motto. After working hard all week and actually passing my chem test (!!!), it was time to have fun. It was Homecoming Weekend, so there were a lot of cool things to do, like seeing Aaron Carter at the Block Party on Thursday, going to Commodore Quake on Friday, and going to all the tailgates and the football game against Mizzou on Saturday (WE WON!!!!)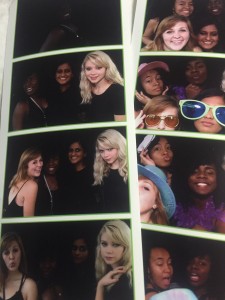 Being at Vandy has taught me what "work hard, play hard" really means – it's all about that balance. And though I'm definitely not an expert yet (there's still 7.5 semesters to go) I have a really good feeling about what's to come.