Kenya Dig It?
No matter how many assignments I have or how busy school gets, there is always time for french fries and helping others, right? I certainly think so, and Vanderbilt's convenient location and passionate students make doing both super easy. Great food and helping an even greater cause? I'm in.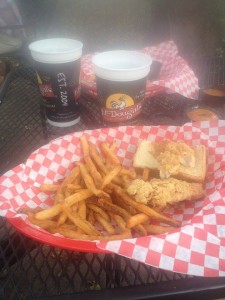 Early this week, my friends and I headed to McDougal's in Hillsboro Village (a quick 10 minute walk from Commons) to support Kenya Dig It, a student organization here at Vanderbilt. McDougal's is known for their fresh chicken, but their french fries are also so, so good. Not to mention, when you buy a basket meal, you get FREE ICE CREAM at the end of your meal! Seriously, this place is awesome.
More importantly, though, on that night, a percentage of the profits at McDougal's went to Vanderbilt's Kenya Dig It, the first organization I joined on campus. Kenya Dig It works to raise awareness for education in the developing world, specifically Kenya, and Uhuru Child, a nonprofit that works to build sustainable businesses in developing countries that can support schools. The organization also organizes fundraising events throughout the year to fund a scholarship to send a girl in Kenya to school, organizing different events from nights at restaurants (like the one this week at McDougal's) to selling food at football tailgates. At the end of the year, some members take a trip to Kenya, as well, to help teach in schools and work in the businesses.
In the organization's awareness efforts, Kenya Dig It offered a movie screening complete with free pizza and ice cream, which is always a plus in my book. The organization screened Sons of Lwala, a short documentary about two Kenya men who studied at Vanderbilt's Medical School. The movie follows them through their journey to build a health clinic in Lwala, Kenya and displays the conditions of health and education in the developing world. It put into focus why the organization exists and why we are a part of it.
Kenya Dig It is by far one of the things I am most excited about at Vanderbilt. I am passionate about education, so it was naturally right up my alley, but the people involved in the organization are wonderful. Our president, Taylor, ends every meeting with an uplifting and inspiring video, a small gesture that has a large impact and leaves us feeling even more excited about what we are doing. Before coming to Vanderbilt, I knew that I wanted to get involved with education somehow, and I am so excited that I found an outlet so soon.
Please feel free to email me with any questions about getting involved on campus or life at Vanderbilt in general. I'm more than happy to help you!
Stay well and be kind,
Elizabeth