This is Vanderbilt.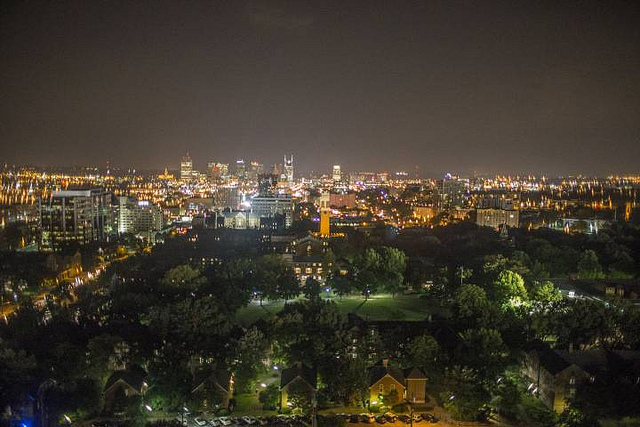 I spun through the air and then landed on the concrete, laughing. It was midnight and Zack and I had just attempted the swing dancing routine Around the World on top of a parking garage, at an impromptu event organized by BYX (the Christian fraternity). Around us, about seventy-five people swing danced, whirling around in sundresses or sweatpants, their feet scraping against the floor of the top of the parking garage. Standing still for a moment, I breathed in deeply, still giddy from the routine. As I took another breath, I looked around again at the movement, the energy all around me. I couldn't believe I was actually here! This was Vanderbilt.
The next morning, I sat in the Stambaugh seminar room with five others talking about vector and Euclidean spaces, trying to survive Math 2500. The class, previously numbered Math 205A, is hardest mathematics course for freshmen, and currently, only twenty-one people are enrolled (from a beginning class size of forty). That morning, the two white boards in the room were covered in writing, and I could hear two of the guys talking in low voices about quantum theory and various physics concepts. One student was over at the board, writing out a proof, daring another to find the error. Even though I was currently achieving a C in the class, I couldn't help but smile. I couldn't believe I was actually here! The intellectual vitality I was looking for at other schools, the community of bright students I thought I could only find at an Ivy League–it was all here! This was Vanderbilt.
When I was mired in deathly swamp of essays and scholarship essays of eleven schools, it was hard to think about what college was actually like. I had a brief image of a cute Pinterest-inspired dorm and heavy textbooks, but I honestly had no idea. From August until late in February, I could only think of the essays, the scholarship weekends and interviews, the videos and business casual outfits. For nearly my entire school until a few days before April 1st, college was more of an abstract idea than an actual place. But never fear, future university students!! College DOES exist.
A month after Move-in Day, Vanderbilt means so much more to me than a Top 25 University in Nashville, Tennessee. It's more than fantastic Commons waffles, a football team in the SEC, or even innovative majors such as HOD (Human Organizational Development) or the renowned Blair School of Music. A month after Move-in Day, Vanderbilt means playing Murder in the Dark at midnight at Cohen and linking arms with friends and skipping across Alumni Lawn at midnight, singing as loudly as possible. Vanderbilt means talking with a friend about how the amazing properties of atoms, and ten minutes later, discussing the concepts of faith and God in an honors biology seminar. A month after Move-in Day, Vanderbilt is so much more than the application and the essays, the admission pamphlets and the ads. A month after Move-in Day, Vanderbilt is home.
If you have any questions, feel totally free to email me at sophia.druffner@vanderbilt.edu. I would LOVE to hear from you cause you're AMAZING!!!!!!
ever most sincerely,
SOPHIE!!!!!!!!