One Big High: Work Hard, Play Hard
My family would often play a game called High-Low. If you haven't heard of it, what you do is go around and have everyone says his or her "high," best part of the day and "low," worst part of the day. Well, my low for the weekend was that at the concert I went to last night, the band covered a One Direction song. Tbh, it wasn't even one of their bad songs. When that's your low for the weekend, it means you've had a pretty freaking good weekend, and I have!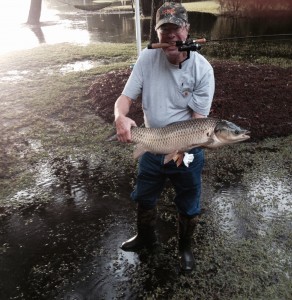 So quick apologies for getting my first post out so late! I was gonna post last weekend, but my home state was flooding so I was a tad distracted. Turns out my family is ok (thanks for asking), and this weekend is a complete turn around from the last! First of all, it's been 70 degrees and sunny with a cool breeze blowing; the leaves are turning all colors from pumpkin spice late brown, to pumpkin orange, to Vanderbilt Gold! The squirrels and students are out en mass, and with Fall break giving us a long weekend next week, everyone is making the final push through the next three days of midterms. But, guess who doesn't have midterms this week, that's right, this guy!
So, with the tone set, you can see how it would be a great weekend even if nothing happened, but a Vanderbilt weekend with nothing happening just doesn't happen. Vandy students often describe the school as "work hard, play hard." It's sooo true! Friday after class, I went and played ultimate frisbee on the lawn with some brothers from Beta Upsilon Chi, and my team won! Then I rushed back to my dorm, washed the mud, sweat, and tears off, and threw on jeans and boots to head line dancing downtown with friends. Our California and Illinois group members were a little shaky to start, but we had some Texas folks straighten them out, and needless to say, we had a blast! Afterwards, we got dinner at Mellow Mushroom, which was super easy because they accept meal money, a part of Vanderbilt's meal plan. After that, I was supposed to go to a party with the running club but fell asleep instead, which was good because Saturday started at 6am.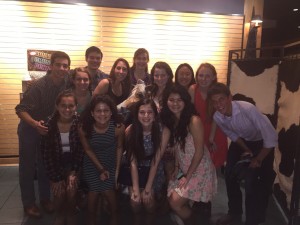 That's right, I got up at 6am on a Saturday morning, voluntarily, to run. In hindsight, not the best plan, but it turned out ok! Two of my friends and I had signed up to run a 5k in German Town, another neighborhood of Nashville, because we love to run and because we wanted to get outside the Vandy Bubble. What is the Vandy bubble you may ask? Well, it's basically the idea that there are so many crazy awesome cool things to do at and around Vanderbilt that many students don't always venture far away from campus. Not really true in my opinion, seeing as the first weekend here I got to go cliff jumping in Alabama. Anyways, back to the race! I don't want to brag, but out of 1000+ runners, my friends both placed in the top 10, and I was in the top 20. Furthermore, we swept the top three places in our age division. Vandy Represent! We got to go out to eat at an amazing diner, which was on the card, and then I got to do homework for 5 hours. Work hard, play hard is our motto!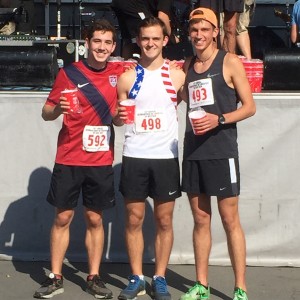 Ok, so 5 hours of homework might sound kinda bad for a Saturday, but I would bet that a lot of y'all reading this are already doing that kind of stuff, and in college it's way better. You actually get to do homework for interesting classes that you chose, with friends all around you who are in the same boat. To make it even better, at Vanderbilt, you're in a gorgeous place with, in this case, perfect weather. All in all, not a bad way to spend the Saturday afternoon. There was also a reward. I got to got see one of my favorite bands, Judah and the Lion, play with Ben Rector at the historic Ryman Auditorium!!!!! Second best concert I've ever been to, and it made the US loss vs Mexico in soccer just a bit more bearable. Thought the night was over after that, guess again! I got to come back to the dorm to watch Gone Girl per my roommate's recommendation.
Now, today's Sunday, the weekend isn't even over yet. I got to go to church with friends this morning, and it is still ridiculously nice outside. The crazy thing is, the activities level this weekend was average to slightly below average of what it has been. Remember what I said about "work hard, play hard?" As nice as the weekends are at Vanderbilt, the weeks aren't half bad either! Everyone here is super intense, and it comes out in all aspects of life. Vanderbilt is known for balance and it really pushes you towards that healthy goal. Instead of forcing you to sacrifice an aspect of your life in order to boost up another, like sacrificing health, or fun for school, the culture here pushes you to boost all of your life up. It results in a better college life, and it makes you a better person. It's also super fun. So, if you want to suck the marrow out of life, come to Vanderbilt, we do it on the reg.