Nashville Nights & Stunning Sights
Hey everyone!
As some of my fellow bloggers have already mentioned, last week was Fall Break (which was definitely much needed–and appreciated–after a hectic few weeks of midterms and papers). Seeing as going home to England was just a little bit too far away for a four-day break, I decided to spend Fall Break having a stay-cation right here in Nashville. Fall is my absolute favourite time of year in Nashville; the weather is perfect (just the right temperature for going on an early-evening stroll in a light jacket and cute boots) and the Vandy campus looks absolutely gorgeous.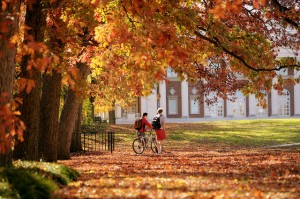 As beautiful as Vanderbilt is, however, today I'd like to talk about the beauty of downtown Nashville. Last year, I didn't really venture downtown much; there were always so many cool things happening on-campus that I never really found time to leave. But this semester, I made it one of my goals to go exploring more often and it's been so great! Last month alone I went downtown to see an Ed Sheeran concert (oh my gosh) at the Bridgestone Arena, I enjoyed local music at the Live on the Green festival and I ate yummy treats at the famous Mike's Ice Cream.
This fall break, some friends and I decided to go downtown to have dinner and explore Nashville in the evening. One of my friends is a Nashville local and so after dinner, we all went for a walk and he showed us all the best spots. My absolute favourite attraction that we visited was the John Seigenthaler Pedestrian Bridge. The views from this bridge at night were simply breathtaking; we could see the Nashville skyline, the stadium, the Cumberland River and so much more!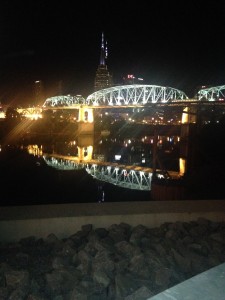 While I was up on the bridge, enjoying the views and laughing and joking with some of my closest friends, I felt so fortunate and I couldn't help but reflect a little on the past few years and the events that led me to Vanderbilt. If you had asked me five years ago where I would be today, there is no way I would have ever even imagined that I would be studying abroad in Nashville, TN, USA. But here I am. And I am so glad that I'm here.
Anyway, that's enough of my random musings. In summary; Nashville…great views. great nights and great friends.
Anchor Down! <3