Intro to Vanderbilt
It's crazy that fall break is barely a week away, marking the middle of the semester. It feels like move-in day was only yesterday! These past six weeks have been incredible: a new city, new friends, new everything.
My classes so far have been challenging and rewarding, and I've found some extracurriculars that I'm really enjoying. I joined Relay for Life, and I'm on the Campus Outreach committee and team captain for Crawford House (Go Craw!!). I've also joined a new club, called Students Against Modern Slavery, which works to raise awareness about human trafficking and volunteers with local organizations to rescue and rehabilitate victims of trafficking. I'm also running with the Running Club, a low-key group that's a lot of fun. Then, of course, I'm writing for this blog!
Fittingly, two of my most memorable events of the last month-and-a-half in Music City, USA have been performance related. First was Athenian Sing, an annual fundraiser put on by the Athenian Honor Society here at Vanderbilt. Some of Vandy's premier performing arts groups were there, including VIBE (hip-hop dance), the Bhangradores (a super high-energy South Asian dance ensemble), and the Melodores. (they won the Sing-Off, no big deal…)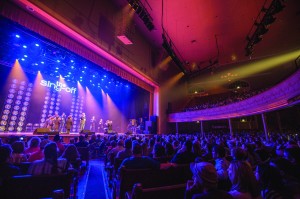 Next up, another concert! Just this past Sunday I saw Disclosure at the Woods Amphitheater. About 25 minutes northwest of downtown, the Amphitheater is a really cool venue: basically a big stage and a clearing in the middle of the woods. Disclosure put on an amazing show (their first in Nashville!) and I had a great time with some friends of mine.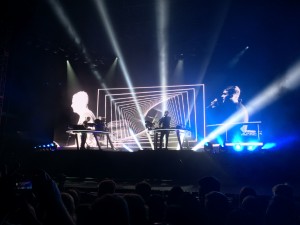 In the next week and a half between now and Fall Break, I have two midterms to "look forward to," and then Lights on the Lawn to actually look forward to. Our Crawford House creed does a really good job of portraying how life is at Vanderbilt: "Work hard, play hard."
Side note: Another reason why Crawford is the best house on the Commons is that we have two dogs. That's right! Meg and Squeak live in our Faculty Head-of-House's apartment. Where else but at Vanderbilt do you have pets living with you in dorms! Whenever we want some canine affection, we can knock on Dr. McTamaney's door to take the dogs for a walk, or just to hang out with them for a little bit.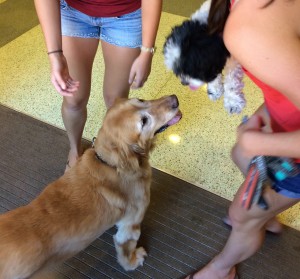 Though I couldn't cover all of the craziness of these first few weeks of college, hopefully I gave y'all some insight into what life is like as a new first-year student at Vandy. If you have any questions or comments, feel free to email me at max.bernstein@vanderbilt.edu.
Until next time, Anchor Down!