Escaping the Vander-bubble
If you're fairly familiar with Vanderbilt, you may have heard students refer to the Vander-Bubble/Vandy Bubble/some other play on the word (if it isn't clear, we like our puns here at Vandy). But what exactly is said bubble? As Vanderbilt students, and especially First-Years, we have everything we need on campus, or very, very close by. With the required meal plan (3 meals a day, 7 days a week) and fascinating programming and events happening daily, one could spend four years and hardly set foot off campus. But that would be wasting the opportunities we have in one of America's most happening cities. Campus is just over two miles from Downtown, a cheap taxi/Uber ride, or an easy (and free) bus trip!
Between campus and Downtown is a cool, up-and-coming neighborhood called the Gulch, packed with trendy restaurants and unique shops (be sure to check out Two Old Hippies). Last Saturday, two friends and I treated ourselves to a nice dinner at Moto as a nice break from studying for midterms.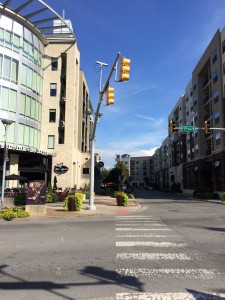 Broadway is the main strip downtown. Or should I say, the Nash-Vegas Strip. I had never heard that term (Nash-Vegas) before coming here, but Broadway really puts an image to that name: bars and honky-tonks with big, flashy, lit-up signs, a little miniature version of the Vegas strip. I also didn't know that Nashville is apparently the bachelorette party capital of America. Go figure.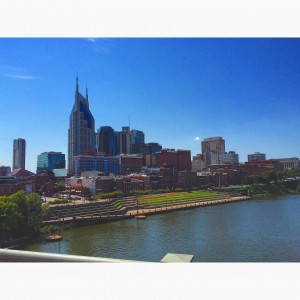 There are also some cool neighborhoods closer to campus and farther afield. Hillsboro Village is very close the the Commons, just south on 21st Ave. Jackson's is great for a nice dinner, Pancake Pantry has legendary pancakes (of course) and lines out the door most times. Fido is a cool brunch spot with really good coffee drinks, and a good place to study if coffee shop/café studying is your thing. Finally, there is Jeni's Ice Cream, with delicious and exotic (and expensive) flavors. A nice treat once in a while.
Neighborhoods a bit further afield are 12 South (more cool restaurants – Josephine and Burger Up) and Five Points over in East Nashville. East Nashville is home to some very pretty residential areas, like Edgefield, with old Victorian homes and tree-lined streets. Five Points is an up-and coming commercial strip, now home to a Bongo Java location (brought to you by the folks from Fido), Five Points Pizza (their Pizza has won international competitions), and Margot Café, which arguably put East Nashville on the map as a foodie destination. There is so much more going on in East Nashville than I've described, or than I even know about. I am looking forward to exploring it more, and I'll keep you readers updated on what I discover.
Food is one great way to explore new neighborhoods and areas (clearly that seems to be the focus of my discoveries – I really need to get a job to support my habit), but there are always events going on. Just this past weekend was the Southern Festival of Books downtown, and Oktoberfest in Germantown. Though I didn't make it out to either of those (thanks, midterms), it gives you and idea of how easy and rewarding it is to get out of the Vander-bubble once in a while. It's all about striking a balance between all of the offerings on campus and the opportunities we have by being so incredibly lucky to be in Nashville!
I got out of the Vander-bubble in a big way for fall break – I visited my older brother in Philadelphia, then saw some friends and family in New York City. Though it wasn't the relaxing, catch-up-on-sleep break that I probably need, it was still a little change of pace and break from schoolwork (oh yeah, that…)
If you're coming to Nashville, want ideas for something to do, events going on, or some restaurant recs, shoot me an email at max.bernstein@vanderbilt.edu.