Anchoring Down in My New Home
Coming to Vanderbilt has been a whirlwind in the best kind of way. Although I have only been here for a little over a month, this campus and the city of Nashville have done nothing but make me feel at home. And what better way to make someone feel at home than by inviting them over for dinner?
I spent last Sunday evening having dinner with some distinguished guests, including the Dean of the Commons,Vanessa Beasley, Chancellor Nick Zeppos, and Brando Skyhorse, the award-winning author of our summer reading. Vanderbilt's Commons Reading serves as a way to give all first-year students something in common to discuss when they arrive on campus. Our book was The Madonnas of Echo Park, a look into the invisible community of the Mexican-American culture in the suburbs of L.A. The winners of the Commons Reading Competition were invited over to have dinner and discuss the book (and our competition submissions) with the author himself. He told us about his inspiration for different parts of the book and the process of writing it, and he offered some great advice for our time here at Vanderbilt. Not to mention, I talked with the Chancellor about Taylor Swift (yep, that actually happened).
A few days later, Dean Beasley invited me into her home again for the Dean's Book Club, a monthly discussion of a selected book from our Writers-in-Residence. Sitting around her living room, we shared our reactions and a quiet evening with, of course, delicious cookies. Hearing other people discuss what they thought the book was about added to everyone's understanding, and I enjoyed spending the evening with some new and familiar faces. They meet once a month and give the first students who sign up a free copy of the book, so it is a great way to get involved on campus and get a few free books along the way. You sign up each month, as well, so you can go as many or as few times as you'd like!
Of course, Vanderbilt is not my only new home; my adopted home of Music City has proven to be nothing but the most fun.
Dean Beasley accompanied some of us to the Belcourt, a historic movie theater in Hillsboro Village. Through FLiCX, a student organization on campus, we got to see The End of the Tour for free, a movie about Infinite Jest author David Foster Wallace. At the end, we even got to skype with the screenwriter of the the movie who happened to also have been of friend of Wallace. Along with the Belcourt, the restaurants and shops in Hillsboro Village are some of the coolest places to visit in Nashville– and it's right by Commons!
A little farther, but still in walking distance, is the ever-entertaining Bridgestone Arena, home of the Nashville Predators! My friends and I saw two pre-season hockey games (for free!) at the end of September. The Preds won both games, and I got a picture with Gnash, only the best mascot ever, so it's safe to say that we enjoyed ourselves. As hockey fans, we will definitely be heading back for some regular season games!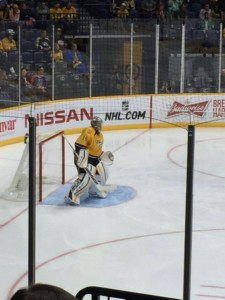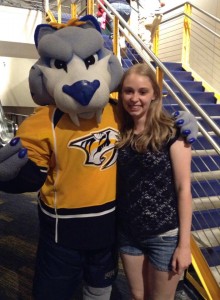 My roommate and I also headed to Bridgestone to see Taylor Swift on her 1989 World Tour! We got tickets the morning of the show, so we are counting it as our first spontaneous adventure of Nashville. As always, Taylor put on a entertaining show, and we had the time of our lives.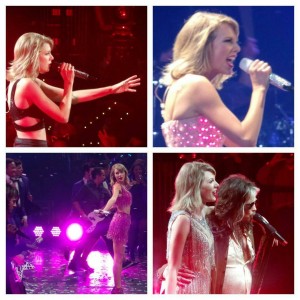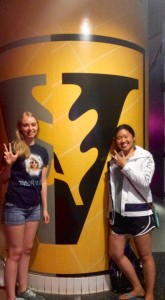 Vanderbilt and Nashville are already starting to feel like home, and I cannot wait to experience all they have to offer and share it with all of you! I am so excited to be a blogger for Inside 'Dores and to help you in any way that I can, so please send any questions you have to elizabeth.h.paul@vanderbilt.edu!
Stay well and be kind,
Elizabeth