A 'Major' Decision
Lately, I have been crazy busy (never too busy for Inside 'Dores though <3). From midterms to club meetings to Diwali practices (more on that soon), this was just a normal week for a student who has the privilege of attending a top 15 school. But this was a very special week for me because I finally declared my major in economics!
College is the place to try out new classes and explore different avenues, and while I have taken classes in many different fields thanks to AXLE, I had decided to major in economics, a decision I had made as a high school junior. Although Vanderbilt gives you plenty of time to discover new interests and then declare a major (at least by the spring break of sophomore year for the College of Arts and Science), I was pretty much set on economics, and being a type A person, I decided to go ahead and formalize my chosen academic path.
I have been taking classes in economics since freshman year, so I have been slowly fulfilling the requirements of the economics major, but I hadn't formally declared it. My CASPAR advisor mentioned some of the advantages of declaring a major sooner rather than later, such as getting a few reserved seats in sought after economics classes, so I decided to declare my major a semester before the deadline.
You may imagine declaring a major to be an arduous process, filled with half a dozen forms, several meetings and approvals, but Vanderbilt simplifies this process for its students. Here's how I declared my major:
Step 1: Find a major advisor. Your major advisor is a faculty member who advises you about the courses you need to take and how to plan your course schedule till the time you graduate. Major advisors are similar to CASPAR (pre-major) advisors, but they specialize in a subject/department, so they offer you more specific information about major requirements. You can have an advisor assigned to you randomly or you can ask a professor to be your major advisor. I had taken classes with Professor Buckles for a year and completed an honors project with him, so I know him pretty well now. He's one of the most popular professors on campus (read this), so when I went to the Department of Economics, they told me his hands were completely full, and only a direct request from him would ensure that he's my advisor. I met with Professor Buckles, and he graciously agreed to take me under his wing!
Step 2: Fill out the major declaration form. The major declaration policies have changed slightly, and if you're declaring only one major, you just need to fill out one major declaration form, and get it signed by your major advisor. Not too much paperwork! I caught Professor Buckles in Wilson Hall after his introductory macroeconomics lecture (one of the most popular classes at Vanderbilt), and one swift signature later, step 2 was complete!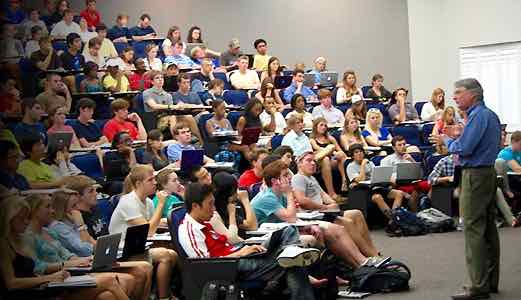 Step 3: Drop off the form at Kirkland. If you have seen any pictures of Vanderbilt's campus, I can guarantee that you must have seen the iconic building called Kirkland Hall. This majestic building (it really looks like it belongs at Hogwarts) houses the office of Chancellor Zeppos, and some other important deans. Students don't usually step inside this building unless it's for something official. But if you're declaring a major in the College of Arts and Science, you have to drop off your major declaration form at 311, Kirkland Hall, where the Office of Academic Services is located. I had been to the office before (and even had a Visions session there), but going there to declare a major was an entirely different experience; my academic plans had finally become concrete and official.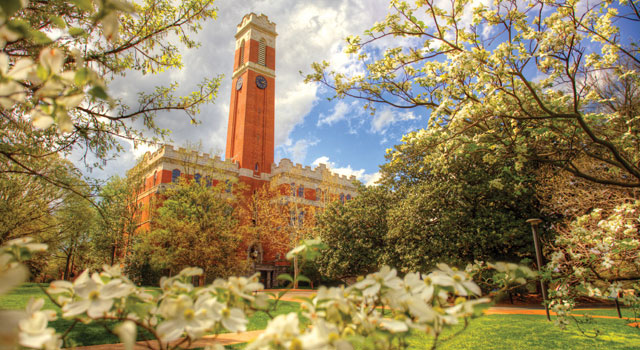 Step 4: Check the degree audit on YES. You can check your academic progress on YES through the degree audit, which tells you how many more courses you need as well as how many hours you've already earned. Once my major declaration form was processed, the economics major was added to my degree audit. Don't be alarmed by the red color; I still have 5 more semesters to complete my major and AXLE requirements!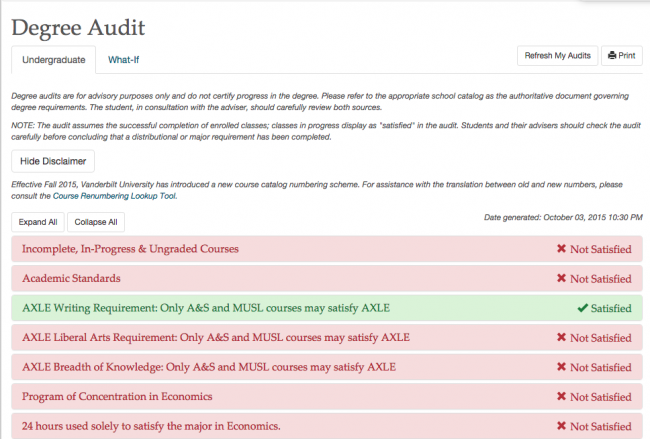 Step 5: Celebrate! Declaring a major is a rite of passage, and although it was merely a formality for me because I was 110% sure about majoring in economics, I'm happy that I chose to finalize my major sooner rather than later. In fact, many of my sophomore friends declared their majors just a few weeks after classes began.
If you have any questions about declaring a major in the College of Arts and Science or questions about the economics major/minor, please feel free to contact me at aditi.thakur@vanderbilt.edu.
Until next time,
Anchor Down!