A Dancer's Guide to Vanderbilt
One of my passions is dancing. As a little girl I learned and performed traditional Mexican folk and Spanish flamenco in my hometown of San Antonio, TX. In high school I got involved in my high school's dance program through a dance troupe that was new to the school. Coming to Vanderbilt I knew that dance would still be important in my life as a college student, but I wasn't sure how. As a freshman I attended the huge student organization fair that happens at the end of the first week of classes in August. I visited many of the performing arts booths, took home way too many fliers that I didn't know what to do with, and was shortly bombarded by so many e-mails that I dreaded opening my inbox . After sleeping through the audition clinic for one of the organizations I thought about joining I auditioned for VIDA, Vanderbilt's Latin dance performance group, the next day and have been part of it ever since.
Being part of VIDA at Vanderbilt has been a very fulfilling and fun experience for me! Familia is one of the words that I'd use to describe what this group of amazing people mean to me. Maybe it's because we practice into the late hours of the night after full days of class, homework, and a myriad of other organizations and club meetings we belong to- but at the end of the night they're a group of people that put a smile on my face. We get to learn and teach choreography from each other and perform at events around Nashville and at Vanderbilt. I really appreciate that VIDA has given me the chance to be a performer throughout college. I love getting to show others how I live out one of my passions!
However, aside from VIDA there are so many other performing arts groups on campus. I've compiled a list of some of the dance groups on campus.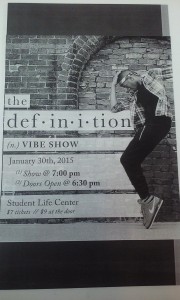 VIBE: Vanderbilt's Hip Hop group! VIBE just hosted their annual show this past Friday and it was amazing! They had 14 acts, including 2 guest performance by VIDA and Momentum Dance Company. It was really fun to get to see them having so much fun and to get to be part of the action as an audience member and as a guest performer with VIDA.
Tap That!: Tap That! is one of the newest performing groups on Vanderbilt's campus. They are open to anyone who has or hasn't done tap dancing before. They have their annual show coming up in March called "Tap the Map". I'm really excited to see them perform and see some great tapping in action!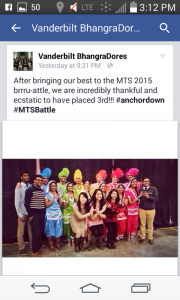 BhangraDores: The BhangraDores are a group that perform Bhangra, a music and dance style originating in the Punjab region of India. If there's one word I would use to describe it is a fun workout! It's a dance full of a lot of energy, excitement, and emotion. The BhangraDores perform at various events on campus and off campus as well. They also just recently won third place at the MTS cultural show yesterday! Way to go!
Momentum Dance Company: Momentum is Vanderbilt's first student-run dance performance group. They have two shows each year that are fully choreographed, directed, and performed by undergraduate members. Remember when I said I slept through an auditions clinic- it was for Momentum. Momentum swept me away with their lyrical performance at Spotlight my freshman year. It reminded me a lot of the dance troupe I was part of in high school. While I never re-auditioned for Momentum I still enjoy their shows immensely and have a lot of respect for the amount of hours these girls put into being part of this dance company at Vanderbilt.
While these are only a few of the performing dance organizations on campus, there are also many other chances for students to get involved in performances around campus. Here's a list of a couple of shows and the organizations that host them. The cool thing about these shows is that anyone can sign up to perform in the shows whether or not they belong to the organization hosting the event. They're great opportunities to explore different cultures through dance and performance and a great way to meet people from all around campus as well.
– Diwali: Hosted by the South Asian Cultural Exchange
– Harambee: Hosted by the African Student Union
– Asian New Year Festival: Hosted by the Asian American Student Association
– Café con Leche: Hosted by the Vanderbilt Association of Hispanic Students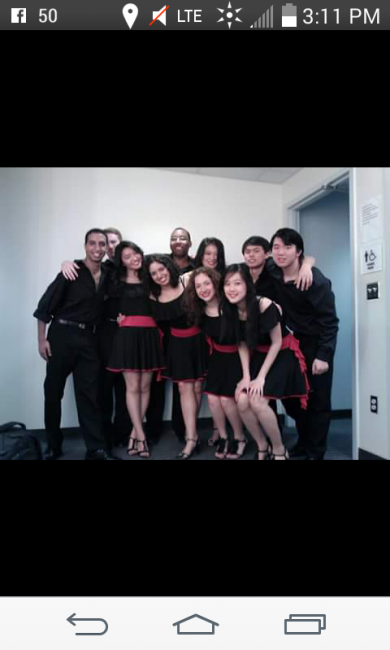 AND, if you're not into the performance scene, there's also a chance for learning to dance a variety of styles through organizations such as vuDance, new as of last semester, that offer free dance lessons on Monday nights. While the majority are partner dances, there is no partner required to take the lessons!