Meet My New WAMily
I'm a proud resident of Rice hall in Moore College, and our Area Coordinator always starts his emails with "Hey WAMily!" It's evokes a cutesy 'ohana-means-family vibe, but I've started reading it as WAM, ily.
I'm giving myself permission to be cheesy because it's winter break, a time of sappy family scenes and affection. So in the spirit of the season:
Warren and Moore, I love you.
This semester has been something of a trial run for everyone—the graduate fellows, the faculty heads, the resident advisors, and the residents themselves. Programs gradually took shape over the first few weeks and months. Chelsea, the grad fellow for Moore, organized a Thursday-night viewing of the TV show "Scandal." Dr. Love, the faculty director for Moore College, opened his apartment on Friday afternoons for quality Beagle time and puppy chow. My RA even baked for us when she didn't feel like studying.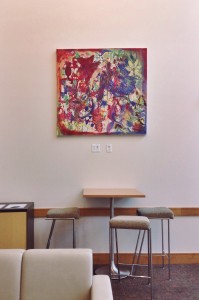 We kicked off the semester with an outdoor carnival. About halfway through the semester, the College Halls held a community celebration dinner with guest performances by the Melodores, Vanderbilt Spoken Word, Tongue 'N' Cheek, and Original Cast (I drank blackberry herb water and exhausted my reserve of small-talk for the day).
We ate many, many meals at the Kissam Kitchen. I especially fell in love with the chocolate-coconut French toast at breakfast, and the themed dinners—Chinese, Mediterranean, Moroccan, Indian, Tex-Mex, Cajun. I sent several comment cards to the chefs through the Campus Dining website, just to let them know what I really enjoyed and what I thought could be improved.
Living at the College Halls made me feel confident approaching Dr. Doug Fisher to interview him for my communication of science class. I visited his new Faculty Head office in Warren, and he shared the story of his career.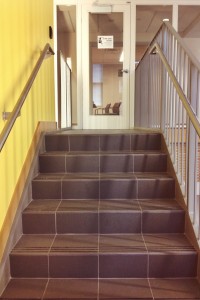 Above all, I enjoyed getting to know my neighbors on Rice 1 and 2. Nothing made me feel like part of a community like late-night impromptu conversations in the common area, prank wars, and studying with neighbors who also happened to be classmates. Some people are studying abroad next semester, and they will be missed. Even in anticipating next year, I'm sad that I will not have all of these awesome individuals less than 10 feet from my door. Fortunately, we have the right to live in Moore next year, so I hope they will remain close enough.
No one's sure yet how rising sophomores will apply for housing in Warren or Moore, but if you're reading this and you have even the slightest chance of joining the W&M community, I encourage you to take it.
Here's to another two and a half years of the beautiful thing that is my home away from home!