Tea Time Tuesdays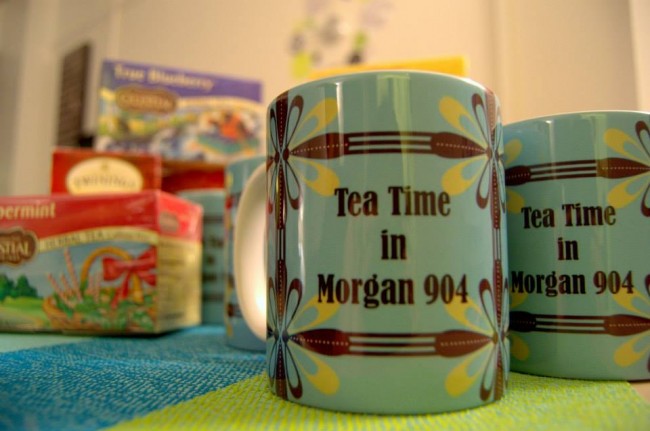 A good amount of my Tuesday nights for the past two years of my undergraduate life have been spent in a college dorm room, drinking tea, eating sweets, and enjoying the company of others- both friends and new acquaintances that I wouldn't have met if it weren't for these weekly gatherings. Hosted by two friends of mine who I've gotten to know through different classes we've taken together and through connections between friend groups, this gathering has come to bring together up to more than 50 students from all around campus and even from Belmont University.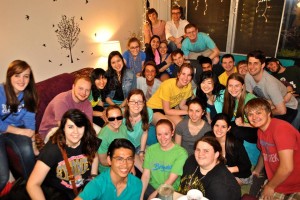 One of the traditions at Tea Time is a group picture! Can you spot me?
So how exactly did this get started? It all began freshman year when my two friends (and roommates at that time), Katie and Kristen, decided to keep up a tradition that one of their families has had for a while- drop everything you're doing at 10pm and have tea. They began Tea Time by inviting their friends to "Bring a mug and a friend" to their dorm at 10pm on Tuesdays; they provided hot water, tea, and an assortment of sweets. Freshman year Tea Time took place in Hank Ingram, the largest dorm on the Ingram Commons, and for the past two years it has taken place in Morgan 904 (Morgan is a dorm building on Highland Quad). Even though I live all the way across campus in College Halls this year I've still made it a point to try to make it to Tea Time every Tuesday night and I know many others who make the journey to Highland Quad on Tuesdays night no matter where they live on campus.
Freshman year, many of the sweets at Tea Time were extra meal plan sides that Katie and Kristen saved and last year and the majority of this year Katie and Kristen have home-baked the goods that are offered at Tea Time. The treats are always tasty and very creative. Their themes have ranged from S'mores themed Tea Times to, most recently, a "Festivus for the Rest of Us" Tea Time in honor of the holiday season upon us. All of these treats have always been funded and made by the Tea Time hosts themselves. However, as of recently they are now a funded event through the Office of Housing and Residential Education. After contacting their RA and applying for funds they now get all of the ingredients for their sweets and other treats FOR FREE!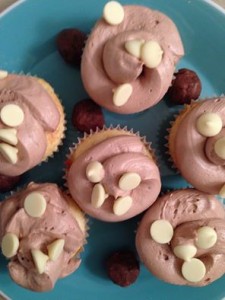 Tea Time has been something that I am always excited to take friends to and to talk to others about. It's truly one of the favorite parts of my college experience. I've made friends through it and it gives me something fun to do on Tuesdays when I need a break from all of my school work. Getting to sit down, or stand when there's too many people to seat, with friends at the end of a day of running around campus or anchoring down to get school work done is a great way to keep up with friends and be part of a little tradition that has made my time at Vandy a little sweeter.