Freshman Engineering: ES140 Modules
Hey guys! Having just finished my first semester as a Vandy engineering major, I think this is the perfect time to talk a bit more about the School of Engineering and freshman engineering at Vanderbilt. I've received emails from some of y'all asking about my experiences so far so I hope that this blog post will be helpful! I'll do another follow-up blog next semester about the workload, professors, labs etc. but right now I want to talk to you about something really cool about Vandy's first-semester engineering programme: the ES140 Engineering Modules.
ES140 is a one-semester course consisting of three self-chosen modules on different types of engineering. The course is designed to help freshmen explore different branches of engineering, try new things, and interact with professors and students across multiple engineering disciplines. Some of the topics available this semester involved learning about laser eye surgery, designing apps, exploring career opportunities as a chemical engineer and performing brain dissections.
I came into Vanderbilt as a mechanical engineering major and the three modules I chose were Mechanical, Biomedical and Civil & Environmental.
Mechanical Engineering Module: Design, Build and Race a Lego Dragster
This was my first ES140 module and it was so much fun! Our aim was to design, build and race a Lego dragster in small groups. It was a great introduction to group project work at Vanderbilt and at the end of the race we had to produce a written report and give a presentation to the other groups in the class. Despite doing very well in pre-race testing, during the actual race we had a malfunction and our vehicle, called Pure Hell, ended up giving us hell instead of our competitors. However, we learned from our mistakes, and overall this module was a great experience.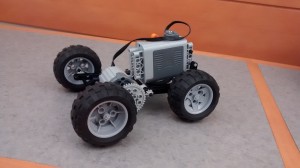 Biomedical Engineering Module: Brain Stimulation Therapies
I found this module completely fascinating. In this class, we explored different types of brain disorders such as depression and bipolar disorder and looked at the different therapies and treatments currently available to help combat such illnesses. We also learned about different parts of the brain and their function, and had the opportunity to dissect a brain. Although I'm currently a mechanical engineering major, I absolutely loved this module and would really recommended it.  Plus the professor is super engaging and brings candy each to each class – yeah, college is awesome!
Civil and Environmental Engineering: Design, Build and Test Wind Turbine Blades
This was my final Module and it was a great way to end my amazing ES140 experience. The focus of this module was to explore renewable energies, with a focus on hydro and wind power. The main component of this module was the group project for which we had to design, build and test the blades for a miniature wind turbine. I loved the hands-on element of making the blades in the workshop but the highlight for me was going to test our blades in a real wind tunnel at the LASIR facility. Like in my first module, we had to produce a written report and give a presentation. We had to do a fair amount of work outside of class time but my group was awesome and I really enjoyed working with them.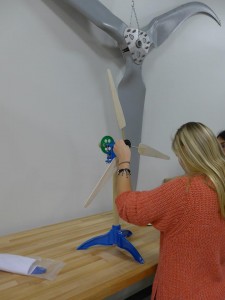 Phew, I know that was a bit of a long post but there's just so much I wanted to say; I really loved my first semester at Vanderbilt and the ES140 Modules were a great introduction to engineering at Vanderbilt. I'll wrap this up by saying a massive congratulations to the newest members of the Class of 2019, you rock! And, of course, a special shout out to the incoming engineers – you're going to love it here!
If you have any questions, please feel free to drop me an email at ishani.pabari@vanderbilt.edu Looking forward to hearing from ya!