Embracing La Dolce Far Niente
Since August, my fellow Commodores and I have been engulfed in a world of midterms, papers, problem sets, student organizations, campus events and finals. While I have thoroughly enjoyed my time at Vanderbilt so far, I frequently crave a break from this daily routine. Just four days long, fall break is barely enough time to completely relax. Thanksgiving break is a week long, but it is dangerously close to finals week. Thus, winter break, as well as summer break, is the only proper break we get to rejuvenate and recuperate from the intensity of college.
As I have frequently mentioned earlier, I am an international student from India. I have been away from New Delhi since late July and thus I had been looking forward to heading back home for winter break. After my last final for my Econ class on 10th December, I flew to Atlanta the following day to my aunt's home. My cousin and I celebrated an early Christmas at her house, replete with a Christmas tree decorated with a gnome dressed in a Vanderbilt sweatshirt.
Later that week, we flew to New Delhi together and after 16 hours on a plane, I was finally reunited with my golden retriever, Sophie.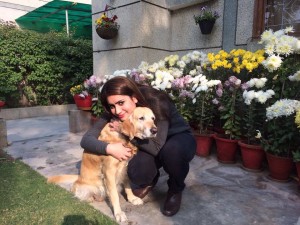 After recovering from jet lag, I indulged in my mom's home-cooked food, something that I had been missing dearly.
The following weekend, my high school held its annual winter carnival. During the event, I got the opportunity to catch up with my high school friends who are studying in different parts of India and the world. Sharing memories both old and new while visiting our favorite haunts is one of my most cherished moments of winter break.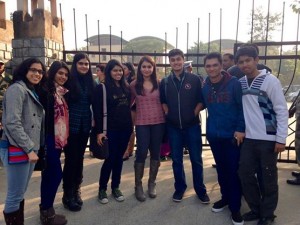 While I continued meeting my extended family and friends, my socializing decreased and I was able to spend some quality time with my parents and Sophie,
just relaxing.
If you are familiar with Elizabeth Gilbert's
Eat, Pray, Love,
you may have heard of the Italian concept of
la dolce far niente
or the sweetness of doing nothing. Having just completed (and survived) my first set of
college finals
, I have come to appreciate and fully embrace
la dolce far niente.
During my first semester, I had an 8 a.m. calculus class four days a week. Sadly, this meant that I had to be woken up at 6:30 a.m. by the incessant beeping of my alarm clock nearly every day. Now, I go to bed with the unparalleled pleasure of not setting an alarm. Being a morning person, I can never sleep beyond 9 a.m. and thus I use my mornings to take Sophie for a walk in the park. After that, I read newspapers such as The Times of India, a habit I have sadly let go of at Vanderbilt. There is something immensely comforting in flipping the pages of a physical paper, rather than staring at a laptop's screen.
I have always been a huge Agatha Christie fan and I am currently catching up on
Poirot
, a television series based on her famous detective Hercule Poirot. David Suchet is truly a class apart.
Being an indoor person, I can stay in my house perfectly content with a good book. But sometimes I do have step out to go to the movie theater. New releases such as The Hobbit: The Battle of the Five Armies, The Night at the Museum: Secret of the Tomb and the Bollywood movie, PK, have barely managed to satiate the movie geek in me.
Of course, no trip to India, or anywhere for that matter, can be complete without shopping. I have decorated my dorm room with Indian ornaments and cushion-covers. Whenever my hall-mates walk into my room, they always admire the Indian handicrafts I have. Thus, I went to
Dilli Haat
, one of my favorite places, to shop for gifts for my hall-mates and friends at Vanderbilt.
Going to movies, shopping, and meeting friends is not 'doing nothing' per se. Yet, all these activities barely take a few hours at most. The rest of my break has been spent relaxing and spending time with my family and Sophie. Sometimes, it is okay to be lazy and cuddle in your warm bed with your retriever while binge-watching The Lord of the Rings.
College keeps me busy and I do enjoy every minute of being a typical college kid. Yet, I also enjoy taking my dog for long and leisurely walks, watching movies without having to worry about that Econ midterm approaching, and of course, not doing laundry.
I still have a few days left to indulge in la dolce far niente, before I begin my second semester. A few more days of sheer, unadulterated relaxation…