Visions: My First Vanderbilt Family
However clichéd it may sound, time does fly! We're off for Thanksgiving Break in less than a week, my classes are wrapping up and the fall semester is coming to an end. This cycle will continue for me for the next seven semesters with one exception: Visions.
I had blogged about Visions before, but here's a quick recap. Visions is similar to an orientation program for freshmen but it is so much more. Essentially, eighteen first-years are grouped together and are led by a student and a faculty VUceptor. Visions serves to help first-years make a smooth transition to life as a college student and adjust to a new academic and social environment.
I remember coming to Vanderbilt for the very first time and being greeted by Rebecca Chong, my student VUceptor. Even though she was a complete stranger to me, she made me feel as if I had known her for years. That is a rare quality and one that I admire ardently. Over the next few days, I met my other Group 83 members who came from all over the US. Being a part of Group 83, we had the privilege of having Frank Wcislo, the Dean of the Ingram Commons, as our Faculty VUceptor. His house on the Commons served as the location of our Visions meeting, a perk of having Frank as our VUceptor (Another perk-we are the only freshmen who get to call him Frank!).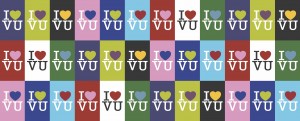 I will admit that some of the aspects of VUcept were predictable: we had the usual ice-breakers, introductions etc. But after we got over our initial awkwardness and I guess, shyness, we got to know each other more and slowly , we became friends. To quote Taylor Swift's 22, "We're happy, free, confused, and lonely at the same time.It's miserable and magical!" Those words aptly describe our first few weeks as freshmen. Visions gave me an opportunity to meet 17 other happy, free, confused (and lonely) freshmen and bond with them, even if it was just through simple 'highs and lows' of our week.
Each week, Visions introduced us to a new aspect of our lives: academics, diversity, the Honor Code, Anchor Dash, our favorite music, the campus or just a leisurely lunch at SATCO. For me, Visions was a much needed break from the intense college life that I was still in the process of embracing. There was a familiar and reassuring comfort in meeting my group members in Frank's home, sharing brownies and bonding over our gloriously typical freshmen experiences.

Some of the things I have gained from Visions
A fantastic student VUceptor. Seeing Rebecca's warm smile and ceaseless enthusiasm every week assured me that there was always a friendly upperclassman to seek advice from.
The one and only Dean. It was an honor to be a part of Frank's Visions group. Even though he is the Dean and a senior professor and all, his warm and welcoming nature made me look forward to Visions every time. His intellect and perspective he shared with us every week were refreshing and enriching.
Friends. Even though I may not hang out with my group members all the time, I have got the opportunity to meet and befriend many new, talented and passionate people. As I walk to class in a sea of other Vanderbilt students, seeing one of my Visions group members and saying a simple 'Hey! How are you?' is comforting to me. We got to attend Anchor Dash together, bond over tacos and share a part of our lives before Vanderbilt through photos. I will cherish these memories forever.
A (somewhat) new perspective on Vanderbilt. Before coming to Vanderbilt, I had done loads of research on the different aspects of campus life, even Visions. But browsing over websites and college catalogs gives you only a brief glimpse of the real deal. I especially enjoyed the True Life presentation by VUcept that highlighted critical issues on campus such as stress, loneliness and diversity in creative and engaging ways. I knew that Visions would be about community-building and making bonds (stuff that looks great on college brochures). And it was. Yet, it was a way for me to engage with smart, talented and passionate first-years, even if it was over seemingly mundane things such as hard classes and impossible papers.
Frank is taking a year off and Rebecca is studying abroad next semester. Therefore, I feel especially lucky to have been a part of their Visions group. Thank you for being there for me always. I'll miss you!
The sad truth of life: all good things come to an end. Visions may be officially over, but the experience that I have gained from it, the friends I have made and the mentors I have found in Rebecca and Frank will always remain with me for the rest of my time at Vanderbilt and much beyond…
Anchor Down :D