Retreat Weekend
This past weekend I spent Friday evening through Sunday afternoon  as a staff member for the Nashville Awakening Retreat at Camp Marymount, a camp ground that's just a quick drive headed south along West End. I have participated in this retreat every single semester since I went on it my first semester as a retreated and all other semesters as part of the staff, except in the fall of my sophomore semester due to an extracurricular conflict. This retreat means a lot to me and I can confidently say that it has been one of the most important things that I have participated in during my time at Vanderbilt. It has greatly impacted my spiritual and religious life on campus and among many other things, was what got me plugged in with the Catholic community on campus.
The Awakening retreat is held by University Catholic and attracts students from a variety of universities and colleges including Vanderbilt, Belmont, Lipscomb, MTSU and throughout the years has even had staff and retreat participants from Tennessee Tech, University of Tennessee, Alabama, and Ohio State! It's been a really great way for me to stay connected with Catholics and other Christians within my own Vanderbilt community as well as throughout the country.
Although every time I have gone on Awakening I've had a fantastic time, I have to say that this past weekend's retreat was a little more special for me than in past times. There are several reasons for this.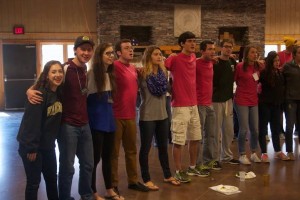 1. My brother went on Awakening! Even though we both live on campus I don't get to see him as much as I would like to. As he continues to get used to college life and I try to balance all of my commitments it can be difficult to find a time and place for us to see each other often. However, this weekend gave me the chance to hang out and spend some quality time with him.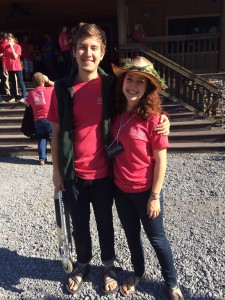 2. It was my 21st birthday!! When I found out the my 21st birthday was going to be during Awakening this semester I was thrilled! There was no better way for me to spend my birthday than surrounded by family (Miguel) and friends at the end of a retreat and a weekend that has been so special to me during my time at Vanderbilt.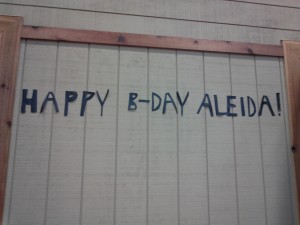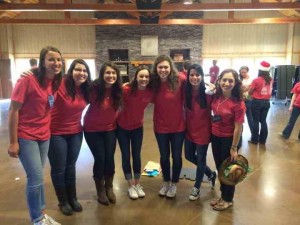 Now that I'm back on campus I'm sad that this retreat weekend is over. It's difficult to go from a setting surrounded with people who have all undergone the same experiences for a weekend to the fast-paced week that's full of tests, quizzes, papers, and other commitments. However, without fail, no matter how much I have to do in the weeks that follow my weekends spent on retreat on Awakening always seem to be the ones I can manage and be less stressed about. There's just something about Awakening that calms me and helps me face all that I need to get done.
I definitely recommend this retreat for anyone that wants to get plugged into the Catholic or Christian community at Vanderbilt and around Nashville. This retreat is welcome to all regardless of religion and is a unique weekend experience that has greatly impacted me and that I think can have a really good impact on anyone open to the experience.