Movies + Dancing + Theater = FUN!
Sorry for so many mathematical symbols in the title but I have been doing math all week and now that my calculus midterm is over (phew!), I can finally blog about some of my favorite moments of the past week :D
Movies. Last Friday night, we were treated to 22 Jump Street starring Channing Tatum and Jonah Hill, who play cops disguised as college students. Now that I am at college, the college humor seemed funnier (and more relatable :P). Armed with a blanket and delicious popcorn, my friends and I set out to the football stadium, where the movie was being screened. Scientists say that laughing for fifteen minutes burns around twenty five calories. I am sure I must have burned a thousand at least ;) . After a hard day's work, watching 22 Jump Street with friends was the perfect way to unwind.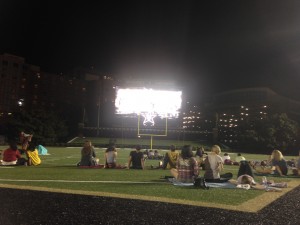 Dancing. Garba is a traditional Indian festive dance. I am ashamed to say that despite having lived in India all my life, I have never participated in Garba. So when the South Asian Cultural Exchange (SACE) and Vanderbilt Programming Board's VenUE collaborated to organize Garba at the Student Life Center, I took my friends along to dance Garba for the very first time. Garba is danced with little sticks called dandiya and we got to decorate our very own dandiyas! I also got beautiful henna on my hands.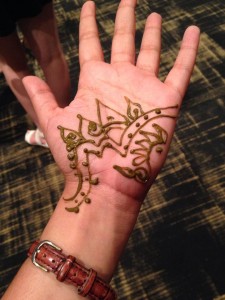 A professional DJ from Atlanta played some fabulous Garba songs and I must say, dancing Garba with dandiyas is so much fun! We finished the night with scrumptious Indian food and a memorable photo session.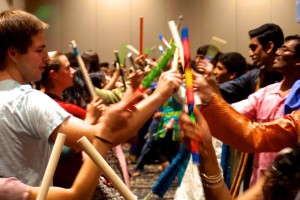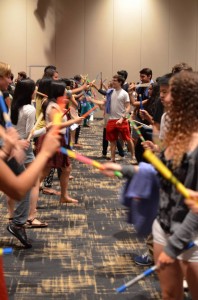 In other news, dance practices for Diwali, a big show that SACE organizes each year, are in full swing. I'm taking part too and loving every minute of it as I'm dancing to some of my favorite Bollywood songs.The show is on November 15, 2014 at Langford so please do come!
Theater. Last night, Vanderbilt University Theater (VUT) put up a scintillating performance of Shakespeare's Much Ado About Nothing .It has become usually cold so I gratefully went to the warm Neely Auditorium with my roommate Caroline, a fellow theater buff.
The play had numerous allusions to Vanderbilt in the costumes and the dialogues. In one my favorite moments, a dancing scene featured a cut-out figure of none other than Chancellor Zeppos swinging to music! (he was also a member of the audience).
Seeing fellow first years perform so passionately was delightful. The actors brought some of my favorite characters to life brilliantly.
I cannot wait for VUT's next production!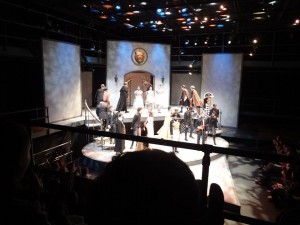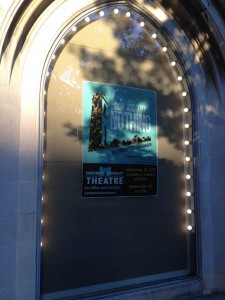 Anchor Down!