A Tale of Two Roomies
If you're anything like me, you hadn't experienced living with a stranger for an extended period of time before moving into a dorm setting. Coming in, I didn't know exactly what to expect and to be honest, it was slightly terrifying.  You usually hear the few horror stories that exist (or so I told myself that only a few exist) about college roommates and assume that it will never happen to you. Needless to say, I got very lucky.
I met my roommate on Facebook—okay, okay I messaged her first but I like to tell people we found each other. Move past the awkward introductions and phone calls and here we are living in the same dorm room in Murray House . Turns out she's one of my closest friends here at Vanderbilt. But let me tell you, living with someone creates a whole new type of bond. It wasn't until she went home this weekend that the situation hit me.
Here are 7 things that change after you have a roommate (assuming it goes well):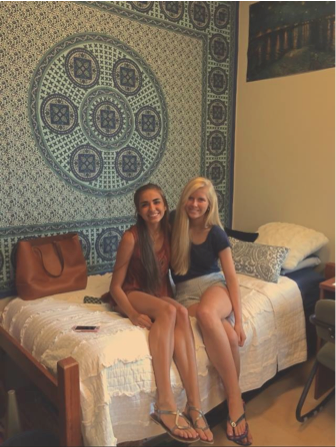 1. You learn to lose the concept of personal space.
Vanderbilt dorms are generously sized compared to many other places. Nonetheless, it's an adjustment. My roommate and I have become scarily skilled at sharing one full body mirror at the same time. Though we try to keep the room neat, each of us has items strewn across the room. Deep breaths – you get used to the mess.
2. You always have someone to study with.
Whether your studying location of choice is Commons Center , Central Library , or Peabody Library, there's nearly always a table for two. Studying becomes a hangout and vastly more enjoyable when you're doing it with one of your bestfriends. Studying alone just leaves me yearning for the chat filled study breaks.
3. You hate waking up alone.
Your roommate learns to love your disheveled hair, puffy eyes, and grumpy morning grimace. Even though you may or may not talk in the morning, waking up alone is not the best start to your day. How can you possibly use a team effort to push the "snooze" button repeatedly when there's only one of you? It's not quite as easy to rationalize sleeping in.
4. You dread going to sleep alone even more.
Meaningless, exhausted chitchat until one of us stops answering is the nightly norm. When my roommate left, the room seemed darker and definitely like there was a gaping hole in the room.  Warning: don't have nightly sleepovers with your BFF and then quit cold turkey unless you want to feel like you're dying alone or in the Vanderbilt version of American Horror Story (….I'd watch it).
5. You become accustomed to two times the wardrobe.
This speaks for itself. Perks of having a roomie with great taste in clothes: endless supplies of shoes and new styles. It could be video games, movies, anything you're into. Double it. Yup…. yours for the taking.
6. Eating alone is something you do if your roommate is busy or you're cramming work. Otherwise, you have a meal partner at any time of the day.
The shameless Sweet Cece's or Pi run? You know exactly who to turn to.
7. You really, REALLY start to rub off on each other
My roommate is from Mobile, Alabama. It took me about a month until I had my first (really weird sounding) unintentional "y'all". It happens to the best of us. Prepare yourself.
So, if you're not in college yet, my point is that you shouldn't freak out about the prospect of living with someone else. You can get a great friendship out of it. If you do have a roommate, appreciate them and maximize the time you get to spend together—come winter break, you will miss the little everyday perks!