Rising from the Ashes
Last night, the Vanderbilt Commodores rose from a slumber and rose from the ashes… like a majestic phoenix.
The past two weeks have been tough. Back to back blowout losses with no light at the end of the tunnel. The future looked dark, with no quarterback to lead us to victory. But then, from the ashes, rose a new leader. Someone to take the reigns and lead us to the promised land. I'm not sure why we ever doubted, but as if it was meant to be, Patton Robinette, the one who led us to victory in Neyland, took up his rightful place and led the team to its first victory.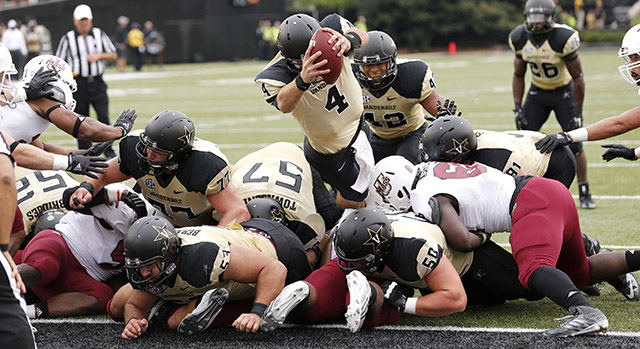 To be completely honest, the game was real scrappy and it was more of a case of UMass losing the game than us winning the game. They kind of blew it themselves. But, to be fair, the team did a good job in taking advantage of all the mistakes that UMass made during the game. In the end, the game came down to a missed field goal from the UMass kicker at 22 yards out to give us the win. Though, a win is a win regardless and we are now 1-2 and riding the momentum all the way to 10-2.
I was quite surprised to see we had a very good turnout to the game. With us being 0-2, playing a small school and being an early game, I thought the student section would be basically empty. But alas, the entire stadium was much more filled than I expected.
We now prepare for the upcoming week when we play South Carolina at home who are one of the best teams we will play this season. Now that we have settled and found our quarterback, the offense should be able to settle down and get adjusted to Patton's playing style. IF we can keep the game close, I believe that we can sneak out a victory in our home stadium.
Anchor Down