Kis-slam Dunk Breakfast
Nashville is for sure a foodie town, and Vandy students know that they don't have to travel far to get some good eats. In fact, this very meal was waiting for me a mere six-minute walk from my Towers suite.
Newly opened this year, the College Halls on Main Campus are essentially the dorms of the future. Modeled as residential colleges, they boast a student-based community and programming in line with the Commons philosophy — an idea slightly different from some other residence halls (like my own, Towers I) that function primarily as dorms, though they do have quite a few community activities of their own.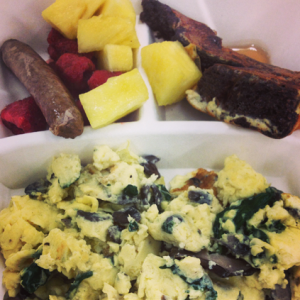 Everyone knew that the College Halls would be beautiful before they were built (and they really are! High ceilings, modern finishes, clean architecture and HUGE rooms are definite hallmarks), but a real plus that students are just now discovering is the Kitchen.
Located in the Kissam Center, a Commons Center-hybrid of sorts with a Munchie Mart, lounge area, and indoor/outdoor seating for diners, Kissam's Kitchen is the newest dining concept to open on campus at Vanderbilt, and like most new introductions the school makes, it's completely on point. With themed menus (think Mexican Night or Mediterranean, my personal favorite thus far), the Kitchen has become the place to be for some of the best food on campus.
Though I've become a regular during dinnertime (when you're on an 8 meal/week plan every meal counts!), after weeks of salivating over the menu from afar I decided to make my first trip over for breakfast — and boy, was it worth it.
Kissam's breakfasts are a little on the early side (served from 7:30-9am on Monday-Fridays), but if there's anything that could keep me from hitting snooze a few too many times it's the thought of that chocolate French toast drizzled with syrup and topped with a dollop of the most scrumptious whipped cream. Ugh, now I'm hungry again. Thanks a lot, guys. Stalk the menu and salivate from afar here.