Jae Goes to Bolivia: The First Day [Part 2]
My first few days of travel and the story of my struggles as I attempt to go to Tarija, Bolivia.
It's been a few days since part 1. I slightly apologize for the delay but part of it was because Comcast cut off the internet temporarily. But we're back online now. Here begins the first day of my month long journey.
May 4th. My dad drove me to the Nashville Airport so that I could begin my travels. I prepared for my flight by watching an episode of Lost the night before. I had not been on a plane in 7 years (since I first moved to the States) so I was hoping nothing would happen. Then my flight was delayed. No big deal, I had a long layover in Miami. I said my farewells and boarded my plane to Miami. After a short wait, I was finally on my way to Bolivia. But then, an hour into my flight, the pilot says we need to turn around. So we turn around and land and all these firetrucks converge towards us. "Standard Procedure" they say. We finally fix whatever problem they had and fly out again at 3am towards Bolivia.
After a long 7 hour flight, we finally touched down in Santa Cruz, Bolivia. I went through customs and then found out I missed my last connecting by a couple of minutes. Perfect. I figure I'll just ask the airline when they can fly me out to my final destination: Tarija. But then… it hit me, "Wait… I don't speak Spanish." And it was from that moment on that I wasn't going to be dealing with just a language "barrier", it was going to be an entire Berlin Wall. I used the best of my "SPAN 103: Intensive Elementary Spanish" knowledge and found out they would put me on a plane tomorrow at 11am. An ENTIRE day.
So, I left, hoping to find a hotel around the airport. Fun fact: Santa Cruz airport is located 30 minutes away from the city. I made a conscious decision that, based on my limited knowledge of the Spanish language, it would be best to stay at the airport.
So, for the next 15 or so hours I sat in a little booth and stared at my Spanish dictionary trying to learn the language. I went to a subway-type store and immediately regretted it as I didn't know the words for any vegetables. Hint: tomato is tomate. Other than that, it wasn't very exciting.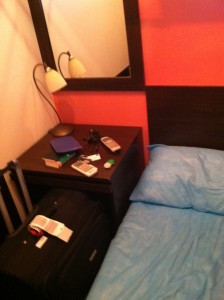 At around 12am, I decided I needed to get some sleep. So, I found this place called the "SleepBox" where they let you rent out a room at an hourly rate. I got a "room" to find out it was really just a glorified closet. I felt like Harry Potter with his fancy cupboard.
And that, was the end of my first few hectic days in Bolivia. I learned my most important lesson: Spanish class does NOT prepare you for conversations.