My PreVU Story
The college search process is not an easy one. Trust me, I know. A few years ago, I was in the same place that many readers may find themselves in now—approaching the end of junior year in high school, with a vague idea of where to apply, but no official campus tours to speak of.  Chaos and panic ensued.
"Where in the world am I going to be after this year?" I asked myself. I honestly had no clue. So I began looking at the brochures and view books that I had received in the mail from the schools that stood out to me.  No joke—a small mountain was forming in the corner of the kitchen because I had gotten so much college mail. As I was looking through the stacks, I came across a flyer from Vanderbilt about their PreVU program, and it caught my attention. Vandy was already one of my top choices, based on what I had read online and heard from friends.  I decided the next step in getting to know campus would be to actually visit.

So I did; I signed up for this PreVU program.  PreVU is a program for rising high school seniors and gives prospective students and families a comprehensive look into Vanderbilt life—what classes are like, what students do for fun, how the admissions process works, and the best places in town to find Taylor Swift (my tour guide was a huge fan, so I got a lot of that).
We then went on a walking tour of campus led by a current student and then we got to eat lunch with our guides and several of the admissions officers in the Commons (which is basically a dining hall that looked like something out of Harry Potter). Finally, we got to participate in a student panel: five current students sat on stage and led a Q&A session where prospective students and their families got to ask any and all questions that their hearts desired.The program was comprehensive, covering all aspects of life at Vanderbilt.  To start off, we went to the Student Life Center (or the SLC) and walked around with our coffee cups to check out the various extracurricular activities available via The Student Organization Fair.  Next, we listened to undergraduate university deans talk about academics.  Admissions and financial aid officers then discussed what kind of applicant Vanderbilt seeks and highlighted "Opportunity Vanderbilt," our no-loan financial aid program. I was truly amazed by the wealth of opportunities here.
I didn't realize it until I left, but it finally sunk in that I was falling for Vandy. I obviously applied, and come spring, I was accepted (one of the best days of my life)! And it was all because of PreVU.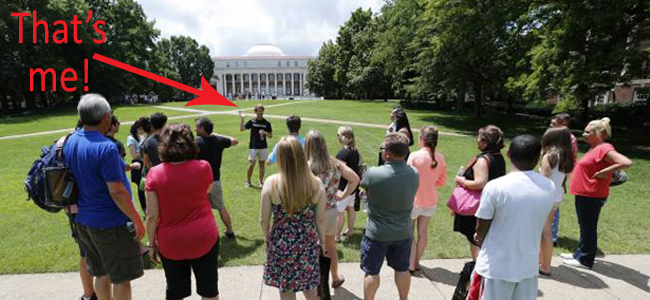 I loved my experience so much on that fateful summer day that I decided I wanted to get involved myself. And it turns out that the following summer, I would end up on the other end of PreVU—running the program alongside the admissions officers. I now work in the Office of Undergraduate Admissions and serve as a campus tour guide (you can see me leading a PreVU tour in the picture above).  I guess you could say I liked my experience here at Vandy as a prospective student. A lot.
Anyway, the bottom line is that PreVU is one of the best ways to get to know Vanderbilt, and I encourage all rising seniors to come check it out this summer!  Anchor Down!